Hot chocolate recipe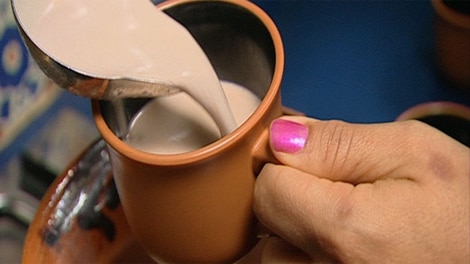 Ingredients
1 litre milk
90g or 1 round of Mexican chocolate
View conversion table
Preparation
Place milk into a deep pen. Break up chocolate and add to milk.

Slowly bring to the boil and then reduce heat. Whisk chocolate mixture using a molinillo which will make it velvety and frothy by holding the molinillo between both hands and rubbing your hands together.

Pour into cups.
If you enjoyed this Hot chocolate recipe then browse more Mexican recipes, beverage recipes, breakfast recipes, chocolate recipes and our most popular hainanese chicken rice recipe.
Mexican Restaurants
Displaying 10 of 241 Mexican Restaurants.
PLEASE NOTE: All submitted comments become the property of SBS. We reserve the right to edit and/or amend submitted comments. HTML tags other than paragraph, line break, bold or italics will be removed from your comment.
Featured Food & Recipes
Hot Tips
More
Serving rice
To serve coconut rice Malaysian style, scoop individual servings into a small soup bowl to mould rice before upending it onto plates.
Glossary
More
Bacalhau
The Portuguese word for salted, dried codfish, a staple in Portuguese cuisine. Bacalhau must be soaked over 24 hours before use. It is said that there is a different dish using bacalhau for every day of the year.