Moroccan chicken with eggplant and couscous recipe
Created by
Suzanne Gibbs and Lucy Buhler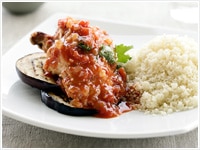 Photography: Tanya Zouev
Cuisine:

African

Servings:

Serves 4

Cooking Time:

Less than 60 minutes

Course:

Main
Moroccan chicken with eggplant and couscous
Ingredients
1 tablespoon olive oil
8 chicken pieces
1 onion, finely chopped
2 garlic cloves, crushed
2 tablespoons mild Moroccan seasoning
400g can chopped tomatoes
1 large eggplant, sliced
¼ cup coriander leaves
1½ cups (300g) couscous, prepared according to packet directions, to serve
View conversion table
Preparation
Heat oil in a saucepan on high. Cook chicken for 2 minutes each side, until golden. Set aside. Reduce heat to medium, sauté onion and garlic for 3 minutes. Add seasoning, cook for 1 minute more.

Return chicken to pan with tomato and 1 cup water. Bring to boil. Reduce heat to low and simmer for 25 minutes, covered, until chicken is cooked through.

Meanwhile, grease and preheat a chargrill pan on high. Cook eggplant for 4 minutes each side, until tender.

Spoon chicken over eggplant. Top with coriander leaves and serve with couscous.

If you enjoyed this Moroccan chicken with eggplant and couscous recipe then browse more African recipes, nut-free recipes, egg-free recipes, lactose-free recipes and our most popular hainanese chicken rice recipe.
African Restaurants
Displaying 0 of 0 African Restaurants.
| | | | |
| --- | --- | --- | --- |
| | Restaurant | Book Online | Suburb |
PLEASE NOTE: All submitted comments become the property of SBS. We reserve the right to edit and/or amend submitted comments. HTML tags other than paragraph, line break, bold or italics will be removed from your comment.
Featured Food & Recipes
Hot Tips
More
Honey candies
Avoid making honey candies, a popular Jewish treat for Passover or Hanukkah, when the weather is humid as the honey in the mix absorbs the moisture from the air.
Glossary
More
Sage
A perennial broad-leaved herb that is widely cultivated for its leaves, which have an aromatic, slightly bitter flavour and are used for flavouring fatty meats (such as pork), stuffings, marinades, certain cheeses and various drinks.