Chicken and zucchini parcels recipe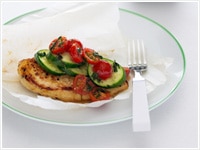 Photography: Richard Mortimer
Cuisine:

Modern Australian

Servings:

Serves 4

Cooking Time:

Less than 30 minutes

Course:

Main
Chicken and zucchini parcels
Ingredients
4 chicken breast fillets
1 tablespoon olive oil, plus extra to serve
1 tablespoon Dijon mustard
2 medium zucchini, sliced on the diagonal
200g cherry tomatoes, halved
1/3 cup chopped mixed herbs such as parsley, thyme, chives
steamed baby potatoes, to serve
View conversion table
Preparation
Preheat oven to 190°C. Pat dry chicken breasts with paper towel. Heat oil in a frying pan on medium. Cook chicken for 1-2 minutes each side, until browned.

Lay chicken breasts on large individual pieces of baking paper and smear mustard over both sides of each breast. Top with zucchini, tomatoes and herbs. Season to taste.

Wrap chicken loosely in paper, folding ends to prevent juices escaping. Lay parcels on a baking tray and bake for 15 minutes. Place parcels on serving plates and open. Drizzle with extra olive oil and serve chicken with steamed baby potatoes.

If you enjoyed this Chicken and zucchini parcels recipe then browse more Modern Australian recipes, nut-free recipes, egg-free recipes, lactose-free recipes and our most popular hainanese chicken rice recipe.
Modern Australian Restaurants
Displaying 10 of 601 Modern Australian Restaurants.
PLEASE NOTE: All submitted comments become the property of SBS. We reserve the right to edit and/or amend submitted comments. HTML tags other than paragraph, line break, bold or italics will be removed from your comment.
Featured Food & Recipes
Hot Tips
More
Pasta shapes
Thin, delicate pasta shapes are lovely combined with thinner, delicate sauces. Tubular or irregular shaped pastas are best with chunky sauces (so the sauce can get caught inside the shapes). Small pasta shapes, such as risoni, are great in soups.
Glossary
More
Cuttlefish
From the squid and octopus family, a cephalopod, cleaned and used in similar ways to its relatives.