Beer sozzled chicken with sage and garlic recipe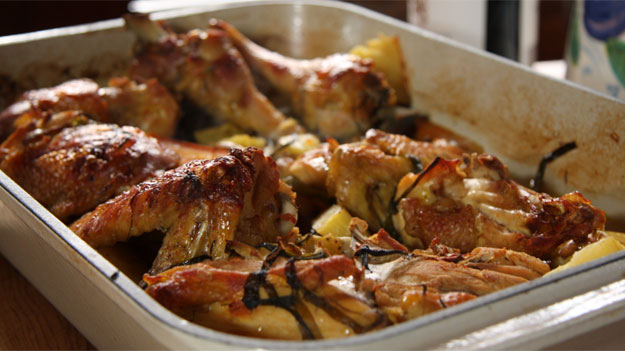 Cuisine:

Modern Australian

Serves 4
Just about everything I used to cook my first chicken from Puggle Farm was local, including the sage and carrots from the garden. Did it taste better because of it? I think it did.
Ingredients
2 stubbies Tasmanian beer (Two Metres Tall is a great flavoured local brand)
1 no.18 (1.8kg) free-range chicken, jointed
2 medium potatoes, peeled and cut into modest chunks (or use whole scrubbed baby potatoes, 300-400g)
2 large green onions, cut into pieces the length of your last thumb joint
2 medium carrots, peeled and cut into batons the length of the onion
6-7 cloves garlic, whole
Big handful of sage leaves
1 1/2 tsp salt and some freshly milled black pepper
View conversion table
Preparation
Put the oven on 200C. Have a swig of beer.

Get a deep baking or roasting tray (or even a wide casserole) and lay the chicken on the bottom in one layer. Push the potato between the meat so it will be covered with beer. Scatter the onions, carrots, garlic and sage over the top. Sprinkle evenly with the salt then tip the beer all over. You want the chicken to be just about submerged, maybe fully submerged but not by much. If you need more liquid (I did just say have one swig of beer) use water. If there's too much beer take a pause now while you imbibe.

Cover the tray with foil and pop it into the oven. Cook for 60 minutes. Take the foil off and cook another 20-30 minutes so the top of the chicken starts to colour and poke above the sauce. Turn the meat and do the same on the other side (try laying it on top of the vegies, skin side up, for best effect.) You want the meat to look browned but not burnt, the sauce moist but not overly runny (add a touch of water if it dries out). Remove from oven and serve immediately.

If you enjoyed this Beer sozzled chicken with sage and garlic recipe then browse more Modern Australian recipes and our most popular hainanese chicken rice recipe.
Modern Australian Restaurants
Displaying 10 of 601 Modern Australian Restaurants.
Comments (15)
Previous
Page 1
|
2
Next
PLEASE NOTE: All submitted comments become the property of SBS. We reserve the right to edit and/or amend submitted comments. HTML tags other than paragraph, line break, bold or italics will be removed from your comment.
Featured Food & Recipes
Hot Tips
More
Avoiding sticky pasta
To avoid sticky pasta cook in a large pot of rapidly boiling salted water (5 to 6 litres of water to every 500 grams of pasta). Giving the pasta a good stir in the first couple of minutes is also crucial to help avoid sticking.
Glossary
More
Bechamel Sauce
A white sauce made by thickening milk with roux. A basic bechamel may be a mother sauce for many small sauces; seasoned bechamel is a finished sauce.