Stir-fried choko with beef and garlic recipe (trai su xao thit bo)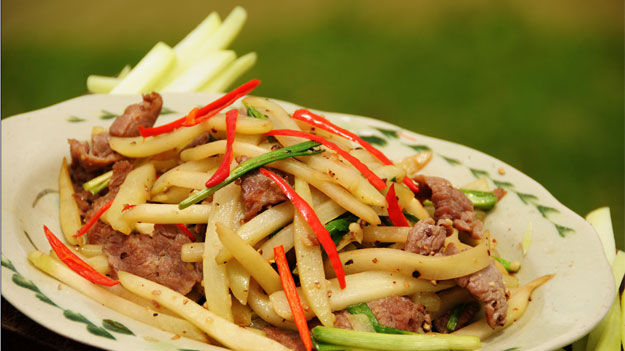 Ingredients
200g lean beef, finely sliced
2 chokos, peeled, sliced into batons
2 tbsp vegetable oil
4 spring onions, cut into 5cm lengths
1 tbsp finely diced garlic
1 tbsp sugar
2 tbsp fish sauce
1 tbsp water
½ tsp freshly ground pepper
3 coriander sprigs for garnish
1 chilli
2 tbsp light soy sauce
View conversion table
Preparation
In a mixing bowl, combine 1/2 tablespoon sugar, pepper and 1 tablespoon of fish sauce. Mix well then add beef and marinate for 10 minutes.

In a hot fry pan, add vegetable oil and fry the garlic until fragrant. Add the beef and stir fry for 1 minute then remove the beef and set aside.

Add the choko to the same hot pan then add remaining fish sauce, sugar and 1 tablespoon of water. Stir then cover with lid and cook on medium heat for 5 minutes.

Remove the lid, add spring onions, cooked beef and toss well for a further minute.

Transfer to a plate, garnish with coriander and serve with jasmine rice and chilli soy dipping sauce.

If you enjoyed this Stir-fried choko with beef and garlic recipe (trai su xao thit bo) then browse more Vietnamese recipes, stir-fry recipes, meat recipes, quick recipes and our most popular hainanese chicken rice recipe.
Vietnamese Restaurants
Displaying 10 of 276 Vietnamese Restaurants.
Comments (13)
Previous
Page 1
|
2
Next
PLEASE NOTE: All submitted comments become the property of SBS. We reserve the right to edit and/or amend submitted comments. HTML tags other than paragraph, line break, bold or italics will be removed from your comment.
Featured Food & Recipes
Hot Tips
More
Malagueta chillis
If you can not find a malagueta chilli (a popular addition to many Brazilian dishes) you can substitute with other hot chillies such as jalapeno or add a few drops of Tabasco.
Glossary
More
Jicama or Yam Bean
Jicama or Yam Bean is a crunchy root vegetable. It can be eaten raw or cooked. In Australia, its found in almost every Asian store selling fresh vegetables.