Stir-fried choko with beef and garlic recipe (trai su xao thit bo)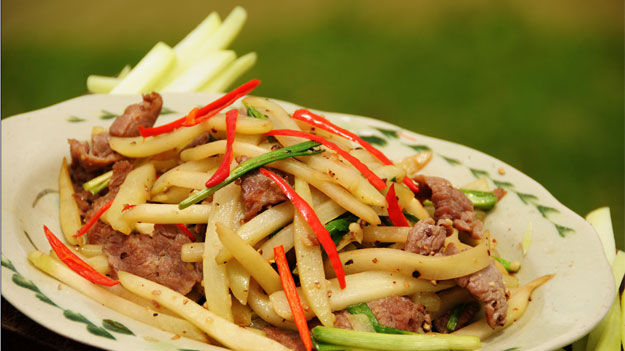 Ingredients
200g lean beef, finely sliced
2 chokos, peeled, sliced into batons
2 tbsp vegetable oil
4 spring onions, cut into 5cm lengths
1 tbsp finely diced garlic
1 tbsp sugar
2 tbsp fish sauce
1 tbsp water
½ tsp freshly ground pepper
3 coriander sprigs for garnish
1 chilli
2 tbsp light soy sauce
View conversion table
Preparation
In a mixing bowl, combine 1/2 tablespoon sugar, pepper and 1 tablespoon of fish sauce. Mix well then add beef and marinate for 10 minutes.

In a hot fry pan, add vegetable oil and fry the garlic until fragrant. Add the beef and stir fry for 1 minute then remove the beef and set aside.

Add the choko to the same hot pan then add remaining fish sauce, sugar and 1 tablespoon of water. Stir then cover with lid and cook on medium heat for 5 minutes.

Remove the lid, add spring onions, cooked beef and toss well for a further minute.

Transfer to a plate, garnish with coriander and serve with jasmine rice and chilli soy dipping sauce.

If you enjoyed this Stir-fried choko with beef and garlic recipe (trai su xao thit bo) then browse more Vietnamese recipes, stir-fry recipes, meat recipes, quick recipes and our most popular hainanese chicken rice recipe.
Vietnamese Restaurants
Displaying 10 of 276 Vietnamese Restaurants.
Comments (13)
Previous
Page 1
|
2
Next
PLEASE NOTE: All submitted comments become the property of SBS. We reserve the right to edit and/or amend submitted comments. HTML tags other than paragraph, line break, bold or italics will be removed from your comment.
Featured Food & Recipes
Hot Tips
More
Chopping an onion
Cut the onion it in half across the base (leaving a portion of root on each half - this will help keep the onion together while slicing), peel the onion and place cut side down. Make multiple cuts long ways from top to bottom but not through the root at the end. The more cuts, the finer the dice.
Glossary
More
Chinese Cabbage
A large, frilly-leaved cabbage also known as wong bak.