Pumpkin flowers stuffed with prawn recipe (bong bi don thit)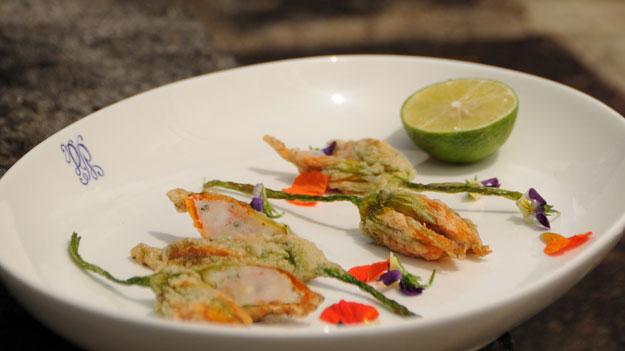 Ingredients
12 pumpkin flowers, stems intact with stamen removed
150 g green prawns, shelled & deveined
1 bunch dill, picked (20 g)
2 egg whites
1 cup potato starch
1 tablespoon fish sauce
1 garlic clove, finely diced
1 lime
Vegetable oil for deep frying
Pinch salt & pepper
View conversion table
Preparation
Pound the prawns in a mortar and pestle into a fine paste. Add half the dill, fish sauce, garlic, salt and pepper. Knead well for 2 minutes.

Take a teaspoon of paste and carefully stuff each pumpkin flower.

Coat each flower with egg white then dust each flower with potato starch until dry and shake the excess starch off.

In a deep saucepan or wok add the oil and bring to 180 degrees celcius. Fry the flowers in 3 batches until crisp, not allowing them to go brown and place on absorbent paper towel.

Place the flowers on a long platter and garnish with the remaining fresh dill.

Serve as a shared entree with a squeeze of lime.


If you enjoyed this Pumpkin flowers stuffed with prawn recipe (bong bi don thit) then browse more Vietnamese recipes, appetiser recipes, seafood recipes, entertaining recipes and our most popular hainanese chicken rice recipe.
Vietnamese Restaurants
Displaying 10 of 276 Vietnamese Restaurants.
PLEASE NOTE: All submitted comments become the property of SBS. We reserve the right to edit and/or amend submitted comments. HTML tags other than paragraph, line break, bold or italics will be removed from your comment.
Featured Food & Recipes
Hot Tips
More
Different paprikas
When using paprika make sure you are using the right variety for the dish you are cooking. The Spanish smoked paprika is ideal for paella, while the Hungarian sweet paprika is quite different in flavour and is ideal for their goulash.
Glossary
More
Sesame Seed
Tiny, shiny, creamy white seeds with a nut-like flavour. Used in baking on breads and rolls, and in seed and oil form in Asian cooking.