Cod and chinese celery soup recipe (canh ngot ca mu)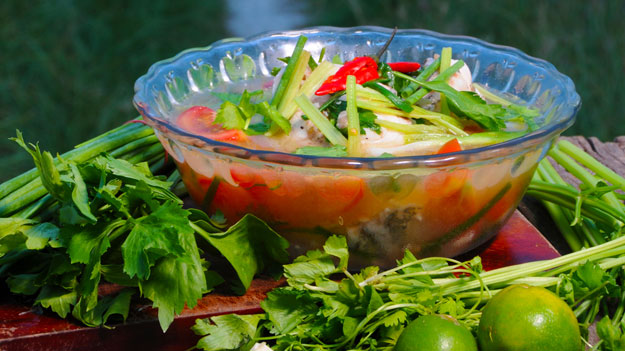 Ingredients
1 whole cod (800 g), cleaned and chopped into 2cm cutlets
2 litres fish stock or water
3 tomatoes, sliced into wedges
6 chinese celery stalks
6 spring onions, sliced
1 cloves garlic, sliced
2 long red chilli, sliced
Juice of 2 limes
½ cup fish sauce
1 teaspoon sugar
1 cup beansprouts
View conversion table
Preparation
Pick the leaves off the celery stalk and reserve for later use. Cut the celery stalk into 5cm lengths. In a mortar, combine celery, chilli, spring onion (white part only) & garlic then slightly pound into a course paste.

Pour fish stock or water to a large pot and bring to the boil.

Add fish sauce, sugar and cod cutlets, then bring back to the boil skimming out any impurities.

Reduce the heat to a low simmer and cook for 10 minutes.

Now add tomatoes, green parts of spring onions, celery leaves and cook for a further 5 minutes.

Take off heat & transfer to a large bowl then add lime juice and stir.

Serve with jasmine rice and side dipping sauce of sliced chilli and fish sauce.

If you enjoyed this Cod and chinese celery soup recipe (canh ngot ca mu) then browse more Vietnamese recipes, soup recipes, egg-free recipes, healthy recipes and our most popular hainanese chicken rice recipe.
Vietnamese Restaurants
Displaying 10 of 276 Vietnamese Restaurants.
PLEASE NOTE: All submitted comments become the property of SBS. We reserve the right to edit and/or amend submitted comments. HTML tags other than paragraph, line break, bold or italics will be removed from your comment.
Featured Food & Recipes
Hot Tips
More
Alternatives to herring
While fresh European herring is a popular ingredient in Polish cuisine, it is not available in Australia. Alternatives include imported pickled herring or Australian Herring, which, while unrelated to European herring, is a suitable alternative.
Glossary
More
Five Spice Powder
Five spice powder is a delightful, aromatic spice blend. Should contain star anise, Szechuan pepper, cinnamon, cloves, and fennel.