Lemongrass chilli chicken recipe (ga xao xa ot)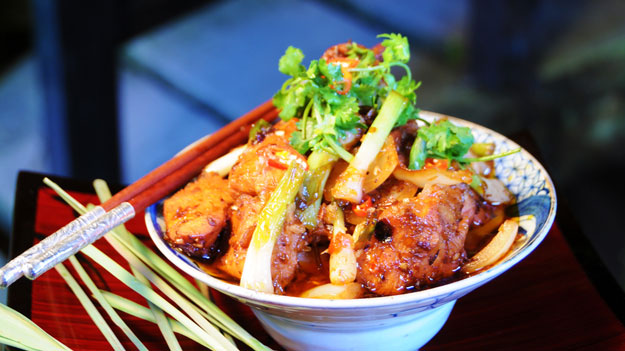 Cuisine:

Vietnamese

Prep Time: 15 min(s)
Cook Time: 15 min(s)
Luke Nguyen cooks up the flavours of Vietnam with this aromatic chicken recipe. It's quick and simple enough for everyday eating, with plenty of wow-factor for entertaining.
Ingredients
3 tbsp fish sauce
1½ tbsp sugar
2 lemon grass stalks, white part only, finely diced
4 garlic cloves, finely diced
2 long red chillies, finely diced
500 g chicken thigh fillets, cut into bite size pieces
3 tbsp vegetable oil
1 cup young coconut juice
½ onion, cut into wedges
3 coriander sprigs, to garnish
jasmine rice, to serve
View conversion table
Preparation
Marinating time: 1 hour

In a mixing bowl combine fish sauce and sugar, and mix until sugar has dissolved. Add half of the lemon grass, half of the garlic, half of the chilli and all of the chicken. Coat the chicken then marinate it covered and refrigerated for 1 hour or overnight for a better result.

Bring a large saucepan or wok to medium heat, add oil and remaining lemon grass, garlic and chilli, and fry until fragrant and slightly brown.

Turn heat to high then add the chicken, sealing all sides until browned, around 2 minutes on each side.

Now add coconut juice and onions, and cover with a lid, then cook on medium heat for 5 minutes or until sauce has reduced by half.

Transfer to a bowl, garnish with coriander and eat with jasmine rice.
If you enjoyed this Lemongrass chilli chicken recipe (ga xao xa ot) then browse more Vietnamese recipes, meat recipes, prepare ingredients in advance recipes and our most popular hainanese chicken rice recipe.
Vietnamese Restaurants
Displaying 10 of 276 Vietnamese Restaurants.
PLEASE NOTE: All submitted comments become the property of SBS. We reserve the right to edit and/or amend submitted comments. HTML tags other than paragraph, line break, bold or italics will be removed from your comment.
Featured Food & Recipes
Hot Tips
More
Black Forest Cake
A pinch of salt in the chocolate, custard mousse mixture will bring out the flavour of the chocolate
Glossary
More
Juniper Berries
A tangy, aromatic dark red-purple berry used to flavour meat marinades and stews. It is also used to make gin.