Whole chicken dry steamed in sea salt recipe (ga nuong lu)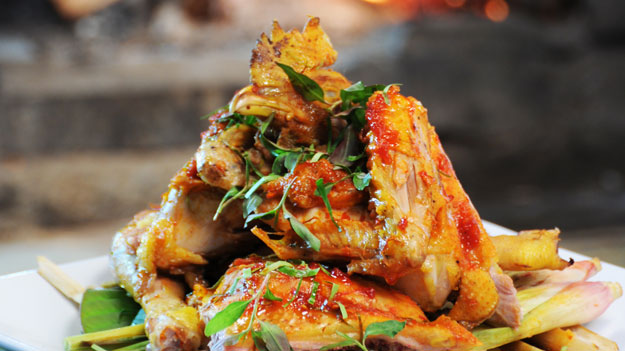 Ingredients
1 whole chicken (1.5 kg), cut into quarters
1 tsp five spice powder
1 tbsp annatto oil
1 tbsp honey
1 tbsp Shaoxing cooking wine
2 tbsp fish sauce
2 tbsp finely diced garlic
1 cup rock salt
1 kg fresh sugar cane, chopped into 2cm x 10cm pieces
2 fresh baguettes
View conversion table
Preparation
In a large mixing bowl, combine 5 spice powder, annatto oil, honey, cooking wine, fish sauce and garlic. Mix well then coat the chicken and marinate for 2 hours or overnight for a better result.

In a large clay pot, add the rock salt and lay the fresh sugar cane on top. Then place the chicken on top of the sugar cane, cover with a lid and cook on medium heat for 40 minutes or when the rock salt ceases to pop.

Transfer the chicken to a plate and serve with crisp baguette.

If you enjoyed this Whole chicken dry steamed in sea salt recipe (ga nuong lu) then browse more Vietnamese recipes, meat recipes, prepare ingredients in advance recipes and our most popular hainanese chicken rice recipe.
Vietnamese Restaurants
Displaying 10 of 276 Vietnamese Restaurants.
PLEASE NOTE: All submitted comments become the property of SBS. We reserve the right to edit and/or amend submitted comments. HTML tags other than paragraph, line break, bold or italics will be removed from your comment.
Featured Food & Recipes
Hot Tips
More
Fruit and veg
Use fruit and vegetables that are in season. They will look better, taste better and the prices are lower.
Glossary
More
Gorgonzola
Gorgonzola is a creamy blue cheese used in the classic Italian dish: gnocchi gorgonzola.