Veal with tuna sauce recipe (vitella tonnato)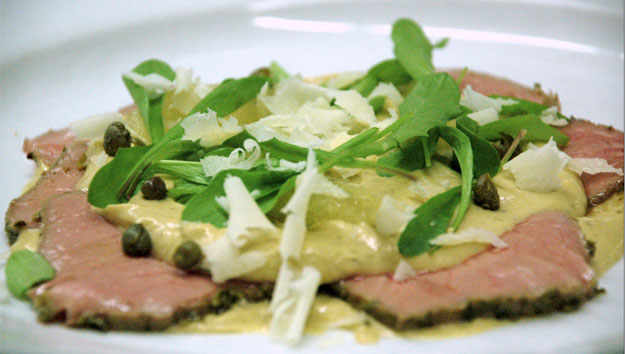 Cuisine:

Italian

Prep Time: 45 min(s)
Cook Time: 1 hr(s) 15 min(s)

Serves 4–6 as an entrée
People think vitello tonnato is so much work. Well it is, agrees Guy, but it's also one of the most beautiful and classic dishes of Italian cucina. It's festive and tastes superb when made well.

Ingredients
Veal
olive oil
1 kg young veal girello, trimmed of all sinew (trimmings reserved)
½ onion, roughly chopped
1 celery stalk, roughly chopped
½ carrot, roughly chopped
sprig of rosemary
2 bay leaves
handful of flat-leaf parsley, chopped
4 anchovy fillets
250 ml chardonnay vinegar
250 ml white wine
1 clove
handful of juniper berries
approximately 1 litre chicken stock
sea salt
freshly ground black pepper
juice of 1 lemon
Tuna sauce
5 eggs, hardboiled
500 g good-quality tinned tuna
100 g baby capers
juice of 1 lemon
250 ml extra-virgin olive oil
sea salt
freshly ground black pepper
Garnish
baby capers
1–2 lemons, trimmed of peel and pith and cut into segments
rocket
shaved parmigiano reggiano
chopped flat-leaf parsley
View conversion table
Preparation
Heat a little oil in a frying pan and seal the veal on all sides until lightly golden. Transfer to a plate.

Pour a little more oil into the pan and add the veal trimmings, vegetables and herbs. Cook until the trimmings are well browned.

Transfer the mixture to a saucepan and add the anchovies, vinegar, wine, clove, juniper berries and the veal girello. Add enough stock to cover the veal. Season with salt and pepper. Simmer for 20–30 minutes, until the veal is just cooked. (To check, remove to a plate and insert a skewer – the juices should run clear.)

Once the veal is removed, boil the stock until reduced by half. Stir in the lemon juice then strain the stock through a fine sieve and allow to cool.

To make the sauce, puree the eggs and tuna in a blender, then add the capers and lemon juice and blend briefly. Slowly add the oil with the machine going, then slowly add enough cooled veal stock to make a creamy sauce a little thinner than mayonnaise.

Slice the cooled veal as thinly as you can. Spread half the sauce over the bottom of a serving dish and cover with the veal slices. Spread with the remaining sauce.

To serve, garnish each helping with about 4 baby capers, 2 lemon segments, 3 rocket leaves, some shaved parmigiano reggiano and a sprinkle of parsley.

SBS cook's notes
Oven temperatures are for conventional; if using fan-forced (convection), reduce the temperature by 20˚C. | We use Australian tablespoons and cups: 1 teaspoon equals 5 ml; 1 tablespoon equals 20 ml; 1 cup equals 250 ml. | All herbs are fresh (unless specified) and cups are lightly packed. | All vegetables are medium size and peeled, unless specified. | All eggs are 55–60 g, unless specified.
If you enjoyed this Veal with tuna sauce recipe (vitella tonnato) then browse more Italian recipes, meat recipes, entertaining recipes and our most popular hainanese chicken rice recipe.
Italian Restaurants
Displaying 10 of 2165 Italian Restaurants.
PLEASE NOTE: All submitted comments become the property of SBS. We reserve the right to edit and/or amend submitted comments. HTML tags other than paragraph, line break, bold or italics will be removed from your comment.
Featured Food & Recipes
Hot Tips
More
Chopping an onion
Cut the onion it in half across the base (leaving a portion of root on each half - this will help keep the onion together while slicing), peel the onion and place cut side down. Make multiple cuts long ways from top to bottom but not through the root at the end. The more cuts, the finer the dice.
Glossary
More
Tortillas
Tortillas are soft, pancake like flatbreads, made with corn or wheat are eaten with most meals. Many expatriate Mexicans make them using corn masa and a tortilla press. They are then steamed.