Praline semifreddo recipe (semifreddo croccante)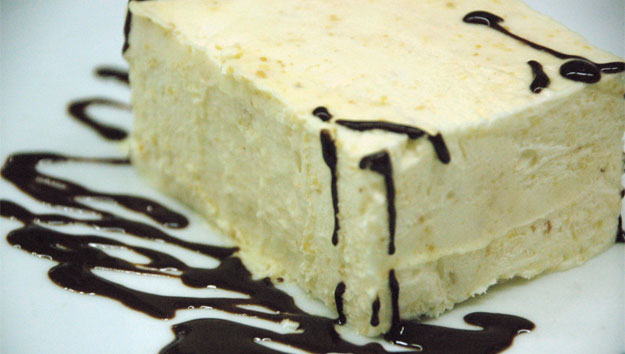 Cuisine:

Italian

Prep Time: 20 min(s)
Cook Time: 20 min(s)

Serves 12
This is a great way to make an ice-cream dessert without using an ice-cream machine – you just put the semifreddo in the freezer. Guy likes to serve it with fresh berries or peaches in summer, or poached pears and chocolate sauce in winter.

You will need to begin this recipe one day ahead.

Ingredients
Praline
100 g flaked almonds, toasted
100 g sugar
Semifreddo
80 g sugar
200 g honey
80 g liquid glucose
150 ml egg whites (from approximately 5 eggs)
900 ml cream
View conversion table
Preparation
To make the praline, scatter the almonds on a tray lined with baking paper. Melt the sugar in a saucepan over medium heat, then cook to a light caramel. Pour over the almonds and leave to cool, then crush the praline to a fine powder.

To make the semifreddo, put the sugar, honey and glucose in a saucepan and cook until the mixture reaches 125°C on a sugar thermometer. Remove from the heat and set aside until the mixture cools to 90°C.

While cooling, beat the egg whites to soft peaks. With the beaters running, gradually pour in the sugar mixture in a thin stream. Continue to beat until the mixture cools (about 5 minutes).

Lightly whip the cream, then fold the cream and crushed praline into the egg whites. Pour into a terrine mould or loaf tin lined with baking paper. Tap the mould gently to take the mixture to the corners, and smooth the top. Freeze overnight.

To serve, turn the semifreddo out of the mould and slice with a hot knife.

SBS cook's notes
Oven temperatures are for conventional; if using fan-forced (convection), reduce the temperature by 20˚C. | We use Australian tablespoons and cups: 1 teaspoon equals 5 ml; 1 tablespoon equals 20 ml; 1 cup equals 250 ml. | All herbs are fresh (unless specified) and cups are lightly packed. | All vegetables are medium size and peeled, unless specified. | All eggs are 55–60 g, unless specified.

If you enjoyed this Praline semifreddo recipe (semifreddo croccante) then browse more Italian recipes, dessert recipes, entertaining recipes and our most popular hainanese chicken rice recipe.
Italian Restaurants
Displaying 10 of 2165 Italian Restaurants.
PLEASE NOTE: All submitted comments become the property of SBS. We reserve the right to edit and/or amend submitted comments. HTML tags other than paragraph, line break, bold or italics will be removed from your comment.
Featured Food & Recipes
Hot Tips
More
Honey candies
Avoid making honey candies, a popular Jewish treat for Passover or Hanukkah, when the weather is humid as the honey in the mix absorbs the moisture from the air.
Glossary
More
Pappadums
Crisp Indian wafers made of legume (and sometimes rice) flour. Usually served with drinks or as a snack with accompaniments such as chopped onions, tomatoes, coriander, and chilli.