Rice pudding recipe (arroz con leche)
Created by
Rosalia Ugarte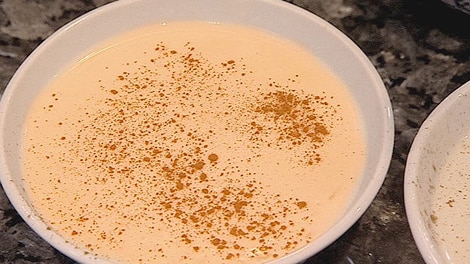 Cuisine:

Spanish

Prep Time: 10 min(s)
Cook Time: 25 min(s)

Serves 8
I'm sure my family have clocked their one-hundredth round on this recipe – we love it and make it all the time. Although using the condensed milk might be cheating a little bit, it makes a creamy, luscious and very indulgent dessert – thank you Rosalia! (In case you're wondering, Rosalia says this definitely can't be made with skim milk – 'You use full-cream then go for a run!')

Curious as to how other cultures prepare this dish? Cuban rice pudding is delicious with stewed fruit or on its own. Thai black sticky rice pudding recipe features caramelised coconut. The Greek version of recipe pudding is called ryzogalo and you can listen as Maria Benardis explains its origins. Also, browse our collection of rice recipes.

Ingredients
250 g medium-grain rice
1.25 litres full-cream milk
1–2 cinnamon sticks
1 strip lemon rind
395 g tin sweetened condensed milk
ground cinnamon
View conversion table
Preparation
Place the rice in a saucepan and cover with water. Bring to the boil and cook for 5 minutes. Drain.

Heat the milk in the saucepan with the cinnamon sticks and lemon rind. When it comes to the boil, add the rice and turn the heat down to low. Cook, stirring constantly, until the rice is half cooked. Add the condensed milk and continue cooking and stirring until the rice is cooked through (test by squashing a rice grain in your fingers). Spoon into bowls and dust with ground cinnamon.

SBS cook's notes
Oven temperatures are for conventional; if using fan-forced (convection), reduce the temperature by 20˚C. | We use Australian tablespoons and cups: 1 teaspoon equals 5 ml; 1 tablespoon equals 20 ml; 1 cup equals 250 ml. | All herbs are fresh (unless specified) and cups are lightly packed. | All vegetables are medium size and peeled, unless specified. | All eggs are 55–60 g, unless specified.
If you enjoyed this Rice pudding recipe (arroz con leche) then browse more Spanish recipes, rice recipes, dessert recipes, breakfast recipes, cheese and dairy recipes, easy recipes, quick recipes and our most popular hainanese chicken rice recipe.
Spanish Restaurants
Displaying 10 of 222 Spanish Restaurants.
PLEASE NOTE: All submitted comments become the property of SBS. We reserve the right to edit and/or amend submitted comments. HTML tags other than paragraph, line break, bold or italics will be removed from your comment.
Featured Food & Recipes
Hot Tips
More
Toasting spices
Toasting whole spices in a dry pan can help to bring out the essential oils and the flavour in the spice, however be careful to taste as you add the spice to your dish as the flavour will have changed and you may need less. Toasting pre-ground spices is a little trickier and it can ruin the flavour of the spice altogether.
Glossary
More
Seville Oranges
A small, bitter orange.