Stuffed Roasted Duck recipe (anatra arrosto ripiena)
Created by
Patrizia Simone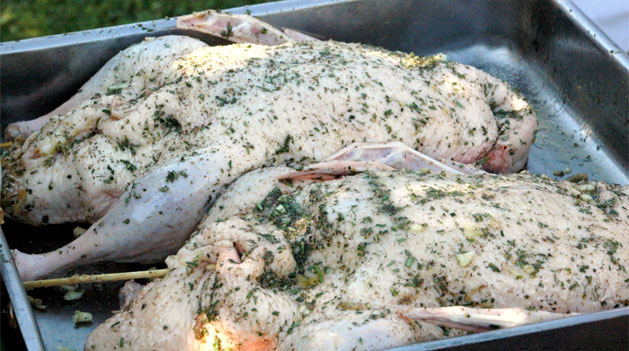 Cuisine:

Italian

Prep Time: 2 hr(s) 10 min(s)
Cook Time: 4 hr(s)

Serves 6
This is an old Umbrian recipe reserved for special occasions such as weddings and religious fetes. The stuffing is rich and rustic with braised pig's ear and trotter, duck liver, pork sausages and chestnuts, flavoured with herb oil. The leftover stuffing can be used to make duck-neck sausage.

Ingredients
Herb oil
1 bunch flat-leaf parsley, finely chopped
1 small bunch sage, leaves picked and finely chopped
4 large fennel sprigs, finely chopped
a few sprigs of rosemary, leaves picked and finely chopped
1 onion, finely chopped
8 garlic cloves, finely chopped
1 tbsp salt
1 tbsp freshly ground black pepper
olive oil
Duck
1.8 kg duck
1 large or 2 small pig's ears, cleaned and removed of hair
1 pig's trotter
1 fennel sprig
1 garlic clove, peeled
salt
100 g duck liver, soaked in salted water for a few hours
4 pork sausages
handful of boiled, peeled chestnuts, chopped (optional)
freshly ground black pepper
200 ml dry white wine such as pinot grigio
View conversion table
Preparation
To make the herb oil, put the herbs, onion, garlic, salt and pepper in a bowl and cover with oil. Mix well.

To make the stuffing for the duck, put the pig's ears, trotter, fennel sprig, garlic clove and some salt in a pot and cover with water. Bring to the boil, then reduce to a simmer and cook for 45 minutes. Remove the pig's ear and continue cooking the trotter for another hour. Drain and leave to cool.

Bring a saucepan of water to the boil and add the duck liver, blanching for 2 minutes. Drain and leave to cool.

Roughly chop the pig's ear and liver and put into a bowl. Remove the meat from the trotter bone, roughly chop it and add to the bowl. Remove the sausage meat from the casings and crumble into the bowl. Add the chestnuts if using, and 80 ml of the herb oil. If the mixture seems too dry, add some olive oil. Leave for 1 hour, or overnight, to allow the flavours to infuse.

Preheat the oven to 220°C. Wash the duck inside and out and pull off the excess fat. Cut off the neck (which you can use to make duck-neck sausage), but leave some skin to close over the cavity after stuffing the duck. Season the duck inside and out with salt and pepper and rub with herb oil.

Fill the cavity of the duck with the stuffing, being careful not to overfill it. Thread a wooden skewer through the skin at both ends to seal in the stuffing.

Lay the duck breast-side up on a tray and rub the breasts with a little more herb oil, being careful not to add too much as the herbs can burn in the oven. Add the wine and some water to the tray and cover the duck with foil. Roast in the oven for 1 hour, then remove the foil, reduce the temperature to 200°C and roast for approximately another hour, until cooked through (test by pulling out a leg and looking into the joint – the meat should no longer be pink and the juices should run clear).

Cut the duck into pieces and serve the stuffing on the side.

SBS cook's notes
Oven temperatures are for conventional; if using fan-forced (convection), reduce the temperature by 20˚C. | We use Australian tablespoons and cups: 1 teaspoon equals 5 ml; 1 tablespoon equals 20 ml; 1 cup equals 250 ml. | All herbs are fresh (unless specified) and cups are lightly packed. | All vegetables are medium size and peeled, unless specified. | All eggs are 55–60 g, unless specified.
If you enjoyed this Stuffed Roasted Duck recipe (anatra arrosto ripiena) then browse more Italian recipes, meat recipes, entertaining recipes and our most popular hainanese chicken rice recipe.
Italian Restaurants
Displaying 10 of 2165 Italian Restaurants.
PLEASE NOTE: All submitted comments become the property of SBS. We reserve the right to edit and/or amend submitted comments. HTML tags other than paragraph, line break, bold or italics will be removed from your comment.
Featured Food & Recipes
Hot Tips
More
Drying mushrooms
Use a brush to clean the mushrooms, cut them into thick slices and spread on a baking tray to bake at a low temperature (35–50°C) for about an hour. Allow the mushrooms to cool at room temperature, place in an airtight container, and store in a cool, dark place.
Glossary
More
Seaweed
Seaweed (kim) is eaten as a crispy snack in Korea in toasted sheets which can also be finely shredded and used as a garnish.