Eggplant parmigiana recipe (parmigiana di melanzane)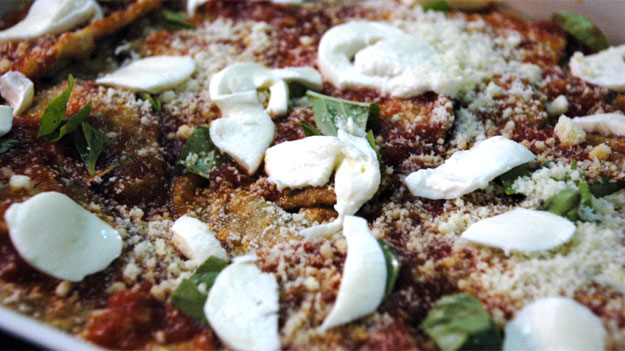 Cuisine:

Italian

Prep Time: 1 hr(s) 35 min(s)
Cook Time: 1 hr(s) 10 min(s)

Serves 6
As a young teacher posted to the outback, Rosa Matto began to introduce good Italian home cooking to her fellow staff and local families. She later set up her own cooking school and has taught legions of people to appreciate Italian food. Recipes like this one are from Campania, where her family comes from.

This is a favourite picnic dish, and sometimes Rosa uses zucchini instead of eggplant. It is a little time-consuming to prepare, though the result is always worthwhile and the dish feeds lots of people as part of a spread. (If you also plan to serve the dish at room temperature at a picnic, the recipe is best made without bocconcini as it hardens on cooling.)

Ingredients
3 large eggplants
salt
plain flour
4 eggs, beaten
olive oil
Sugo
80 ml olive oil
1 ~onion, finely chopped
1 ~garlic clove, chopped
750 ml tomato puree (Rosa uses homemade passata) or an 800 g tin Italian tomatoes, or 12 very ripe tomatoes, peeled and chopped
salt and pepper
½ bunch basil leaves, chopped, plus extra leaves for layering
250 g bocconcini or fresh mozzarella, sliced
100 g parmesan, grated
View conversion table
Preparation
Slice the eggplant no thicker than 1 cm. Sprinkle the slices with salt, stack in a colander and weight down with a heavy object. Leave for 1 hour. Pat the slices dry and lightly coat in flour. Dip into the beaten egg, shaking off the excess, and fry in hot oil until golden brown on each side. Drain on paper towel.

To make the sugo, heat the oil and fry the onion and garlic until soft. Add the tomato and bring to the boil. Cook until lightly thickened. Season to taste and add half of the basil.

Preheat the oven to 180°C. Smear the bottom of a baking dish with sugo then add a layer of eggplant. Dot with slices of bocconcini, a sprinkling of parmesan and a few torn basil leaves. Continue to layer until you have used up the eggplant, and finish with sugo topped with cheese.

Bake for 20–25 minutes, until the top is golden. Allow to rest for 10 minutes or so. To serve, lift off layers rather than cutting a wedge.

SBS cook's notes
Oven temperatures are for conventional; if using fan-forced (convection), reduce the temperature by 20˚C. | We use Australian tablespoons and cups: 1 teaspoon equals 5 ml; 1 tablespoon equals 20 ml; 1 cup equals 250 ml. | All herbs are fresh (unless specified) and cups are lightly packed. | All vegetables are medium size and peeled, unless specified. | All eggs are 55–60 g, unless specified.

If you enjoyed this Eggplant parmigiana recipe (parmigiana di melanzane) then browse more Italian recipes, vegetarian recipes, entertaining recipes and our most popular hainanese chicken rice recipe.
Italian Restaurants
Displaying 10 of 2165 Italian Restaurants.
Comments (13)
Previous
Page 1
|
2
Next
PLEASE NOTE: All submitted comments become the property of SBS. We reserve the right to edit and/or amend submitted comments. HTML tags other than paragraph, line break, bold or italics will be removed from your comment.
Featured Food & Recipes
Hot Tips
More
Smoking with paperbark (native Aust)
You can use Australian native paperbark in place of baking paper when cooking en papillotte. Simply fold the paperbark around a fillet of fish (including any other herbs and spices) and fold the open ends inwards. Secure with string (as you would tie a birthday present) and cook on the barbecue. Paperbark is not edible.
Glossary
More
Daun Salam
Literally "Salam" leaves, sometimes known as 'Indonesian bay leaves' and found in Asian grocery stores.