Norimaki recipe (nori rolls)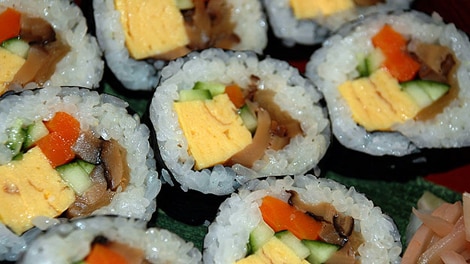 Cuisine:

Japanese

Prep Time: 1 hr(s) 15 min(s)
Cook Time: 2 hr(s) 10 min(s)

Makes 6 large rolls
This recipe contains numerous tips for making these beautiful rolls. Take your time and you'll be rewarded with a sensational result. Masako gives four different filling ideas – the kampyo filling is deliciously unusual (kampyo is strips of dried gourd sold in packets at Japanese grocery stores).
Ingredients
Sushi rice
4 cups koshihikari rice
120 ml rice vinegar
2 ½ tbsp sugar
1 tsp salt
Kampyo filling
50 g kampyo (dried gourd strips)
salt
200 ml dashi stock (see miso soup recipe or use instant dashi powder or liquid)
3 tbsp sugar
2 ½ tbsp shoyu (Japanese soy sauce)
1 tbsp cooking sake
Shiitake filling
10 dried shiitake mushrooms, soaked in a bowl of cold water until soft
3 tbsp sugar
3 tbsp shoyu (Japanese soy sauce)
1 tbsp cooking sake
Carrot filling
1 large carrot, cut into long, thin strips
200 ml dashi stock
2 tbsp sugar
1 tsp salt
1 tbsp mirin
Tamagoyaki (omelette) filling
2 ½ tbsp dashi stock
2 tbsp sugar
1 ½ tbsp shoyu (Japanese soy sauce)
1 tsp mirin
6 eggs, beaten
To assemble
6 nori sheets
rice vinegar
View conversion table
Preparation
To make the sushi rice, wash the rice well in cold water and soak in fresh water for 30 minutes. Place the rice and 4 cups of water in a saucepan and cover with a lid. Bring to the boil then reduce to a simmer and cook until all the water is absorbed (alternatively, steam the rice in a rice cooker). Remove the lid, cover with a damp cloth and leave to cool for 15 minutes.

Heat the rice vinegar, sugar and salt over low heat until the sugar and salt dissolve.
Place the rice in a mixing bowl and evenly pour over the vinegar mixture. Mix in well with a cutting action so as not to squash the rice. Fan for a few minutes until the rice has cooled a little (it can still be warm when assembling).

To make the kampyo filling, rub the kampyo with salt then wash in cold water. Put in a saucepan of water and bring to the boil, then refresh in cold water and squeeze out the excess water. Simmer with the remaining ingredients until tender.

To make the shiitake filling, remove the mushrooms from their soaking water and measure 2 ½ tablespoons of the water into a saucepan. Thinly slice the mushrooms and remove their stalks if necessary, then add with the remaining ingredients to the pan and cook until all the liquid evaporates.

To make the carrot filling, cook the carrot in boiling water until just beginning to soften. Drain, then simmer in the remaining ingredients until tender.

To make the omelette filling, place ingredients other than the egg in a saucepan and heat until the sugar dissolves. Mix into the egg without over-beating. Cook the omelette in a lightly-oiled frying pan (ideally a Japanese square omelette pan). The omelette should be quite thick. Leave to cool and cut into thick strips.

To assemble the rolls, place a sheet of nori shiny-side down on a work surface (or ideally on a bamboo rolling mat). Wet your hands with rice vinegar and spread 230 g of rice over the nori, leaving a 1 cm border on one long edge. Be careful not to squash the grains of rice as you spread it.

Place the filling ingredients in a line down the centre of the rice. Dip your index finger in rice vinegar and run along the exposed edge of nori to moisten it slightly. Roll the rice and filling up inside the nori to form a squarish cylinder. You should apply firm but gentle pressure (the mat helps if you are using one). Slice the rolls into rounds.

SBS cook's notes
Oven temperatures are for conventional; if using fan-forced (convection), reduce the temperature by 20˚C. | We use Australian tablespoons and cups: 1 teaspoon equals 5 ml; 1 tablespoon equals 20 ml; 1 cup equals 250 ml. | All herbs are fresh (unless specified) and cups are lightly packed. | All vegetables are medium size and peeled, unless specified. | All eggs are 55–60 g, unless specified.
If you enjoyed this Norimaki recipe (nori rolls) then browse more Japanese recipes, rice recipes, entertaining recipes and our most popular hainanese chicken rice recipe.
Japanese Restaurants
Displaying 10 of 678 Japanese Restaurants.
PLEASE NOTE: All submitted comments become the property of SBS. We reserve the right to edit and/or amend submitted comments. HTML tags other than paragraph, line break, bold or italics will be removed from your comment.
Featured Food & Recipes
Hot Tips
More
Harissa Paste
Cover harissa paste with a layer of olive oil to preserve.
Glossary
More
Florets
Florets are the small, individual flower stems that make up the heads of vegetables such as broccoli and cauliflower.