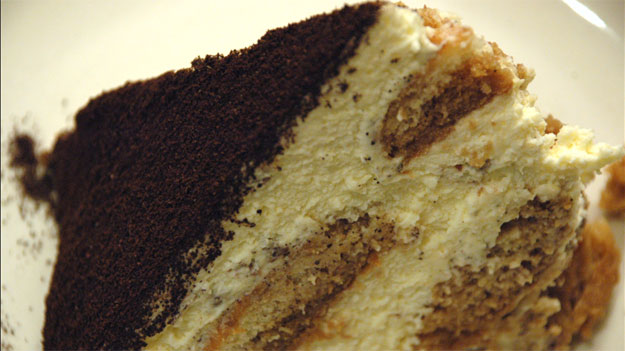 Cuisine:

Italian

Prep Time: 2 hr(s) 45 min(s)
Cook Time: 25 min(s)

Serves 10–12
This is Guy Grossi's recipe made by chef Graziella Alessi – a masterpiece of Italian meringue (beaten egg whites stabilised with cooked sugar syrup), mascarpone and biscuits soaked in coffee, dusted with ground coffee beans.

For a variation on this tasty tiramisu recipe, try Italian chef Giuseppe Vargetto's version, or Vanessa Martin's popular tiramisu, made with strega, Sambuca, and Italian meringue. Also, browse our cake recipes for more sweet inspiration.

Ingredients
3 egg yolks
60 g caster sugar
500 g mascarpone
2 tbsp Strega liqueur, or more to taste
1 tbsp sambucca, or more to taste
20–30 savoiardi (sponge finger) biscuits
1 litre hot espresso coffee
100 g dark chocolate, chopped
freshly ground coffee beans
Italian meringue
100 ml water
250 g sugar
125 ml egg whites (from 4–5 eggs)
View conversion table
Preparation
Put the egg yolks and caster sugar in a mixing bowl and beat on high speed until pale and thick. Add the mascarpone and beat on medium speed until combined (be careful not to over mix as you may split the mascarpone). Add the Strega and sambucca and beat briefly. Set aside while you make the meringue.

Pour the water into a very clean, grease-free saucepan and slowly add the sugar, making sure all the grains get wet. Bring to the boil over medium heat and cook to soft-ball stage, which is when you can drop a small amount of syrup into cold water and it forms a ball that you can shape in your fingers. It is at 112°C on a sugar thermometer.

Beat the egg whites on high speed in a very clean bowl until they hold medium peaks. With the beaters still going, slowly add the hot syrup in a thin stream. Continue to beat until the meringue is completely cool.

Gently fold the meringue into the mascarpone mixture. Taste and add extra Strega and sambucca if desired.

Soak the savoiardi biscuits in the coffee a few at a time without letting them get completely sodden, and giving them a light squeeze as you take them out. (The coffee shouldn't soak all the way through, so there should still be a little portion of biscuit in the middle left untouched.) Lay the biscuits into a large bowl, and keep soaking and adding biscuits until you have lined the base and sides entirely.

Sprinkle the biscuits with a little of the chopped chocolate. Spread one third of the mascarpone mixture over the top. Cover with more coffee-soaked biscuits, sprinkle with more chocolate and add another third of mascarpone. Repeat the layers again and smooth the top.

Refrigerate for at least 2 hours, until the tiramisu is firm enough to cut. Just before serving, sprinkle with ground coffee.

SBS cook's notes
Oven temperatures are for conventional; if using fan-forced (convection), reduce the temperature by 20˚C. | We use Australian tablespoons and cups: 1 teaspoon equals 5 ml; 1 tablespoon equals 20 ml; 1 cup equals 250 ml. | All herbs are fresh (unless specified) and cups are lightly packed. | All vegetables are medium size and peeled, unless specified. | All eggs are 55–60 g, unless specified.

If you enjoyed this Tiramisu recipe then browse more Italian recipes, dessert recipes, cake recipes, entertaining recipes and our most popular hainanese chicken rice recipe.
Italian Restaurants
Displaying 10 of 2165 Italian Restaurants.
PLEASE NOTE: All submitted comments become the property of SBS. We reserve the right to edit and/or amend submitted comments. HTML tags other than paragraph, line break, bold or italics will be removed from your comment.
Featured Food & Recipes
Hot Tips
More
Indonesian meals
There's an art to eating an Indonesian meal. It all starts with rice and then you add small amounts of curries and other dishes like sambals and pickles to add an extra bit of heat or a burst of sour crunch. Its fun to eat with your hands - use your right hand or a spoon and fork. If you've been invited to an Indonesian home, come hungry - Indonesians are incredibly generous.
Glossary
More
Suribachi
A special bowl with a textured surface designed to crush and grind seeds such as sesame.