Veal osso buco with anchovy gremolata recipe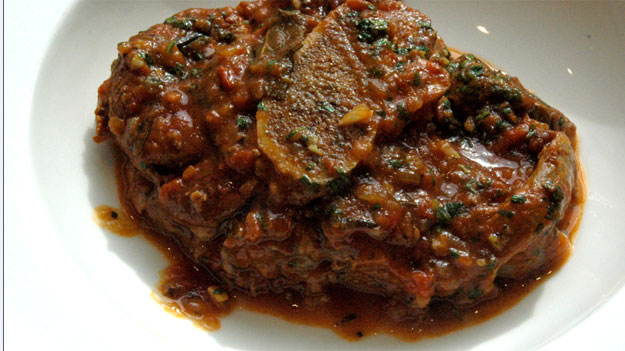 Cuisine:

Italian

Prep Time: 30 min(s)
Cook Time: 5 hr(s) 5 min(s)

Serves 4
Osso buco uses one of the top braising cuts from a veal or beef carcass – the shank or shin, which is cut into thick slices through the bone. Nino likes to use the best veal he can find, such as White Rocks Veal from Western Australia. 'The natural intra-muscular connective tissue turns into an amazing jelly as the meat cooks and develops such a wonderful flavour,' says Nino.

The meat is braised in a rich tomato sauce and the dish itself has become an Italian classic. For a luxurious meal indeed, serve it with saffron risotto.

You might also like Gabriel Gate's osso bucco recipe. Or, browse our collection of Italian recipes.

Ingredients
4 thick slices of veal osso buco weighing 350–450 g each
sea salt
freshly ground black pepper
100 ml extra-virgin olive oil
2 medium–large onions, finely diced
2 garlic cloves, finely chopped
2 good-quality anchovy fillets
2 large thyme sprigs
2 large sage sprigs
large sprig of rosemary
1 bay leaf
250 ml dry white wine
1 kg tomatoes, peeled, seeded and crushed
250 ml veal stock
Gremolata
2 garlic cloves, finely chopped
2 tbsp finely chopped flat-leaf parsley
2 tbsp finely chopped good-quality anchovy fillets
View conversion table
Preparation
Season the osso buco pieces with salt and pepper. Heat half the olive oil in a heavy-based saucepan that is wide enough to fit the osso buco pieces in one layer. Add to the pan and brown the pieces on each side. Remove to a plate and set aside.

Heat the remaining olive oil in the pan and add the onion, garlic, anchovies and herbs and gently sauté for 5 minutes, until the onion is translucent. Turn up the heat and deglaze the pan with the wine. Cook until the wine is almost completely reduced, then add the crushed tomatoes and veal stock. Bring to the boil, then reduce to a simmer and return the osso buco to the pan. Taste for seasoning and adjust accordingly – if the tomatoes are not as ripe and sweet at they could be, you might like to add a little sugar. Simmer gently for 2 ½–4 hours, covered with a lid, until the meat has begun to separate from the bone.

Combine the ingredients for the gremolata. Scatter over the osso buco and cover with the lid for 5 minutes. Lift the pieces of osso buco onto plates and spoon the sauce around the meat.

SBS cook's notes
Oven temperatures are for conventional; if using fan-forced (convection), reduce the temperature by 20˚C. | We use Australian tablespoons and cups: 1 teaspoon equals 5 ml; 1 tablespoon equals 20 ml; 1 cup equals 250 ml. | All herbs are fresh (unless specified) and cups are lightly packed. | All vegetables are medium size and peeled, unless specified. | All eggs are 55–60 g, unless specified.
If you enjoyed this Veal osso buco with anchovy gremolata recipe then browse more Italian recipes, meat recipes, slow cooking recipes, entertaining recipes and our most popular hainanese chicken rice recipe.
Italian Restaurants
Displaying 10 of 2165 Italian Restaurants.
PLEASE NOTE: All submitted comments become the property of SBS. We reserve the right to edit and/or amend submitted comments. HTML tags other than paragraph, line break, bold or italics will be removed from your comment.
Featured Food & Recipes
Hot Tips
More
How to store spices
Spices are generally at their best for up to a month, if stored correctly. Store spices in an airtight container in a cool, dark place. Humidity, light and heat will cause herbs and spices to quickly lose their flavour.
Glossary
More
Mustardseed Oil
The oil of the mustard plant, this healthy oil has a pleasant nutty flavour and is traditionally used to make Indian curries, pickles and relishes but can be adapted to suit any dish using raw or cooked oil.