Italian ricotta cheesecake recipe
Created by
Loretta Sartori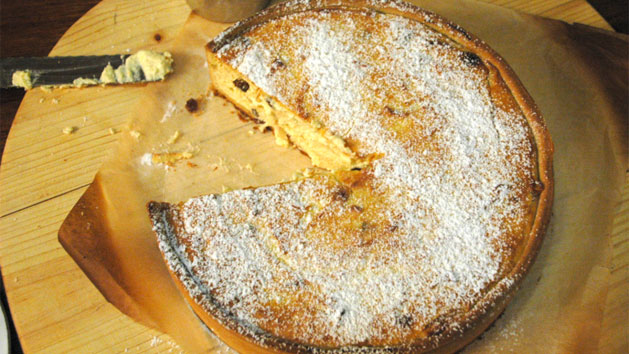 Cuisine:

Italian

Prep Time: 30 min(s)
Cook Time: 1 hr(s) 15 min(s)

Serves 12
If you like cheesecake, you'll love this recipe for torta di ricotta, an Italian dessert made with cream cheese and ricotta, flavoured with candied citrus peel and rum-soaked sultanas.

You will need to begin this recipe 1 day ahead.
Ingredients
Shortcrust pastry
200 g unsalted butter, softened
100 g caster sugar
1 egg
300 g (2 cups) plain flour
Filling
80 g almond meal
3 eggs
110 g (½ cup) sugar
350 g cream cheese at room temperature
650 g fresh ricotta
80 ml cream
80 g candied citrus peel, diced
100 g sultanas, soaked overnight in a little rum or brandy
icing sugar for dusting
View conversion table
Preparation
Chilling time: 30 minutes

To make the pastry, cream the butter and sugar with electric beaters until pale. Add the egg and continue beating until incorporated. Add the flour and beat just until combined. The dough will be very sticky. Cover in plastic wrap and refrigerate until you are ready to roll it out (leave for at least 30 minutes).

Preheat the oven to 180°C. Briefly knead the chilled dough to soften it, then roll it out on a lightly floured work surface. Place a 26 cm springform cake tin over the pastry and cut around the tin to give you a circle that will fit into the base. Set the tin aside and lift the circle of pastry onto a tray lined with baking paper. Bake the pastry for approximately 12 minutes, until golden. Allow the pastry to cool briefly.

Meanwhile, put the almond meal for the filling on another tray and lightly roast it in the oven.

Butter the cake tin and lay the baked pastry circle into the base. Cut strips of fresh pastry for the sides and press into the tin. Run your finger along the joins, including where the sides join to the base, to seal.

Beat the eggs with half the sugar until pale and frothy. Set aside.

Beat the cream cheese and remaining sugar until smooth, then add the ricotta and beat again until smooth. Beat in the cream, then gradually beat in the eggs. Fold in the almond meal, candied peel and sultanas. Spoon into the pastry base and bake in the oven for 1 hour.

Leave to cool to room temperature, remove from the tin and dust with icing sugar.

SBS cook's notes
Oven temperatures are for conventional; if using fan-forced (convection), reduce the temperature by 20˚C. | We use Australian tablespoons and cups: 1 teaspoon equals 5 ml; 1 tablespoon equals 20 ml; 1 cup equals 250 ml. | All herbs are fresh (unless specified) and cups are lightly packed. | All vegetables are medium size and peeled, unless specified. | All eggs are 55–60 g, unless specified.

If you enjoyed this Italian ricotta cheesecake recipe then browse more Italian recipes, dessert recipes, cake recipes, baking recipes and our most popular hainanese chicken rice recipe.
Italian Restaurants
Displaying 10 of 2165 Italian Restaurants.
PLEASE NOTE: All submitted comments become the property of SBS. We reserve the right to edit and/or amend submitted comments. HTML tags other than paragraph, line break, bold or italics will be removed from your comment.
Featured Food & Recipes
Hot Tips
More
Perfect charcoal
When cooking on the charcoal grill, excessive flames can impart an unpleasant taste to the food. A good sprinkle of salt on the flames will help keep them at bay.
Glossary
More
Halva
Ground roasted sesame seeds and honey from the Middle East.