Coeur à la crème d'anjou with raspberries recipe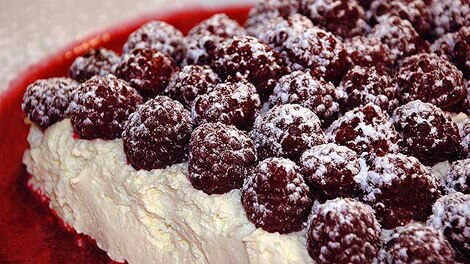 Cuisine:

French

Prep Time: 4 hr(s) 40 min(s)

Serves 6
This delicate dessert made with fresh soft cheese is a speciality of Gabriel's native home of Anjou in France. The coeur or 'heart' is moulded in a special heart-shaped porcelain dish that is perforated with holes to drain off the excess moisture of the cheese. (A colander can be used as an alternative, although you won't end up with the same pretty shape.) The cheese traditionally used is fromage blanc, but quark, which is more widely available in Australia, can be used instead.

Ingredients
2 egg whites
pinch of cream of tartar
110 g (½ cup) caster sugar
200 ml cream
250 g quark
juice of 1 ½ lemons
600 g raspberries
juice of 1 orange
icing sugar to dust
View conversion table
Preparation
Beat the egg whites and cream of tartar to stiff peaks. Add one-third of the sugar and continue beating until smooth.

Lightly whip the cream in a separate bowl.

In a third bowl whisk the quark with another third of the sugar and one-third of the lemon juice. Fold in the whipped cream, then gently fold in the beaten egg whites.

Place a heart-shaped mould on a tray. Line the mould with damp muslin cloth, then fill with the cream mixture. Cover with the muslin and drain in the refrigerator for at least 4–5 hours or overnight.

Puree half the raspberries with the remaining sugar, lemon juice and orange juice. Pass through a sieve to remove the seeds. Chill in the refrigerator.

Carefully turn the heart out onto a serving plate. Top with the remaining whole raspberries and dust with icing sugar. Serve with the raspberry sauce.



SBS cook's notes




Oven temperatures are for conventional; if using fan-forced (convection), reduce the temperature by 20˚C. | We use Australian tablespoons and cups: 1 teaspoon equals 5 ml; 1 tablespoon equals 20 ml; 1 cup equals 250 ml. | All herbs are fresh (unless specified) and cups are lightly packed. | All vegetables are medium size and peeled, unless specified. | All eggs are 55–60 g, unless specified



If you enjoyed this Coeur à la crème d'anjou with raspberries recipe then browse more French recipes, dessert recipes, the loire recipes, cheese and dairy recipes, fruit recipes and our most popular hainanese chicken rice recipe.
French Restaurants
Displaying 10 of 470 French Restaurants.
Comments (12)
Previous
Page 1
|
2
Next
PLEASE NOTE: All submitted comments become the property of SBS. We reserve the right to edit and/or amend submitted comments. HTML tags other than paragraph, line break, bold or italics will be removed from your comment.
Featured Food & Recipes
Hot Tips
More
Goose fat and roast potatoes
Rough up the edges of parboiled potatoes by tossing them around the colander (like you would bounce a tennis ball on a racket) this helps create a crunchy exterior. Add them to the roasting dish with a couple of tablespoons of duck or goose fat, rolling in the fat and season generously.
Glossary
More
Suet
Raw beef fat sold by butchers and used traditionally where now butter or margarine would be used. Also used in a similar way is pork lard.