Sfogliatelle recipe
Created by
Claudio Ferrano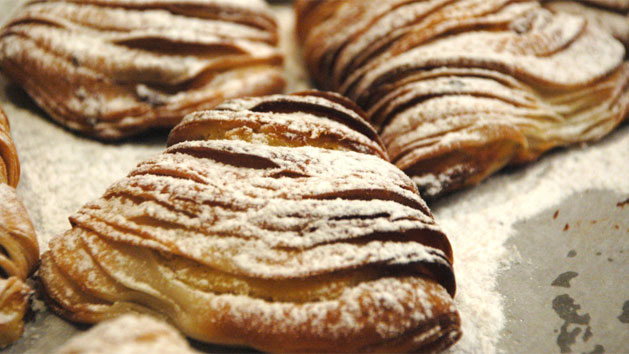 Cuisine:

Italian

Prep Time: 2 hr(s) 30 min(s)
Cook Time: 45 min(s)

Makes 20–25 sfogliatelle
These pastries are truly a combination of passion and skill. Flaky pastry is fashioned into shells and has a glorious crunch, with a creamy filling.

Ingredients
Pastry
500 g plain flour
50 g sugar
6 g salt
200 ml water
150 g lard, softened
Filling
900 ml water
130 g sugar, plus 60 g extra
6 g salt
310 g semolina
vegetable oil
1.3 kg fresh ricotta
2 eggs
grated zest of 1 orange
1 vanilla bean, seeds scraped
1 tsp ground cinnamon
View conversion table
Preparation
To make the pastry, put the flour, sugar and salt in a bowl and gradually mix in the water with your hands forming a stiff dough. Knead for a few minutes, cover with plastic wrap and leave to rest for about 30 minutes.

Divide the dough into a few pieces (each about the size of a slice of bread) so it is easier to work with. Take the first piece and roll it through a pasta machine on the widest setting. Fold it in three and run it through the machine again. Do this about 4 times until smooth, then start rolling the pasta out at narrower settings until the sheet is 1 mm thick. Lay the sheet on a work surface and use your fingers to paint with a layer of the lard.

Begin rolling the sheet up from one of the short edges, gently stretching it longer and wider as you do so, until you have formed a cigar. Then roll another piece of dough through the pasta machine, coat it with lard, and roll it up around the first sheet to create a thicker roll. Continue with the rest of the dough until you have formed a large roll. Cover with plastic wrap and refrigerate for at least 1 hour.

To make the filling, put the water, 130 g of sugar and salt in a saucepan and bring to the boil. Once boiling, gradually add the semolina, stirring. Cook for about 5 minutes, until thick. Remove from the heat, brush the top with a little vegetable oil and place the pan in the refrigerator to cool.

Remove the semolina from the saucepan, cut into small cubes and place in a bowl with the extra sugar. Beat with electric beaters until it breaks up. Add the ricotta and one of the eggs and continue beating until smooth. Add the remaining egg, orange zest, vanilla seeds and cinnamon and beat for another 3 minutes.

Preheat the oven to 180°C. Cut the chilled pastry into 1 cm slices with a serrated knife. Use your fingers to massage a little lard into the cut sides of each slice and gently push out the centre of the spiral, separating the layers to gradually form a pouch or shell. Scoop some ricotta mixture into the centre, filling to the top. Loosely close the shell and lay it on a tray lined with baking paper. Bake for 25–30 minutes, until crisp and golden.

SBS cook's notes
Oven temperatures are for conventional; if using fan-forced (convection), reduce the temperature by 20˚C. | We use Australian tablespoons and cups: 1 teaspoon equals 5 ml; 1 tablespoon equals 20 ml; 1 cup equals 250 ml. | All herbs are fresh (unless specified) and cups are lightly packed. | All vegetables are medium size and peeled, unless specified. | All eggs are 55–60 g, unless specified.

If you enjoyed this Sfogliatelle recipe then browse more Italian recipes, pasta recipes, entertaining recipes and our most popular hainanese chicken rice recipe.
Italian Restaurants
Displaying 10 of 2165 Italian Restaurants.
PLEASE NOTE: All submitted comments become the property of SBS. We reserve the right to edit and/or amend submitted comments. HTML tags other than paragraph, line break, bold or italics will be removed from your comment.
Featured Food & Recipes
Hot Tips
More
Creme Caramel
When making the caramel for Creme Caramel, put the water into the saucepan first then pour sugar into the centre of the water, not at the edges. This will prevent crystals forming.
Glossary
More
Rennet
An extract from the stomach of cows or sheep, used to curdle milk for cheese making. A vegetarian alternative to rennet is now used in making vegetarian cheese.