Minestrone recipe
Created by
Stefano Manfredi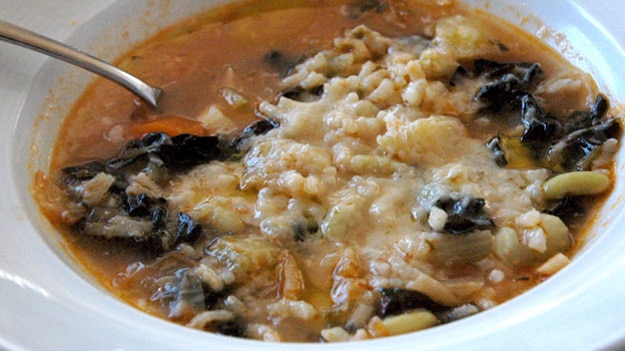 Cuisine:

Italian

Prep Time: 15 min(s)
Cook Time: 40 min(s)

Serves 10
This fabulous touch-your-heart soup full of fresh vegetables was eaten at least once a week as Stefano was growing up. The use of parmesan rind to deepen the flavour is very clever.
Minestrone is a soup that gets better with age, so while it's good the day you make it, it's even better the day after.

Looking for a truly hearty meal? You might also like our minestrone soup recipe. Or, take a look at our collection of culturally diverse soup recipes.

Ingredients
3 tbsp extra-virgin olive oil
2 onions, diced
8 garlic cloves, each cut into 3–4 pieces
1 celery heart including the pale, tender leaves, sliced
2 large or 4–5 smaller carrots, cut into bite-sized pieces
2 cups roughly chopped savoy cabbage
2 bay leaves
1 cup fresh flageolet beans, or other fresh (or cooked dried) beans
350 g waxy potatoes such as desiree, peeled and diced
200 g tinned Italian tomatoes, crushed
100 g carnaroli rice
salt
150 g spinach, roughly chopped
1 cup flat-leaf parsley leaves, roughly chopped
60 g parmesan rind, cut into 1 cm cubes
freshly ground black pepper
freshly grated parmesan to serve
View conversion table
Preparation
Level of difficulty: easy




Heat the oil in a heavy-based pot and add the onion, garlic, celery heart, carrot, cabbage and bay leaves. Lightly fry the vegetables for 2–3 minutes without letting them colour. Stir in the beans, potato and tomato, then cover the ingredients with water. Once the soup comes to the boil, add the rice and turn down to a simmer. Add a few good pinches of salt and simmer for 20–25 minutes.

Add the spinach, parsley and parmesan rind and simmer for another 5 minutes. Remove from the heat and taste for seasoning, adding extra salt if needed, and pepper. Serve with plenty of grated parmesan and crusty bread.

SBS cook's notes
Oven temperatures are for conventional; if using fan-forced (convection), reduce the temperature by 20˚C. | We use Australian tablespoons and cups: 1 teaspoon equals 5 ml; 1 tablespoon equals 20 ml; 1 cup equals 250 ml. | All herbs are fresh (unless specified) and cups are lightly packed. | All vegetables are medium size and peeled, unless specified. | All eggs are 55–60 g, unless specified.
If you enjoyed this Minestrone recipe then browse more Italian recipes, soup recipes, stew recipes, vegetarian recipes and our most popular hainanese chicken rice recipe.
Italian Restaurants
Displaying 10 of 2165 Italian Restaurants.
Comments (10)
Previous
Page 1
|
2
Next
PLEASE NOTE: All submitted comments become the property of SBS. We reserve the right to edit and/or amend submitted comments. HTML tags other than paragraph, line break, bold or italics will be removed from your comment.
Featured Food & Recipes
Hot Tips
More
Chopping garlic
Squash the unpeeled garlic using the flat side of a large knife to loosen the skin and help release the flavour and oils. Peel the garlic and then roughly chop. All of the pieces need to be about the same size to ensure consistency while cooking.
Glossary
More
Bombay Duck
Dried fish from India and Bangladesh used crumbled over stews and curries.