Crostoli recipe
Created by
Vanessa Martin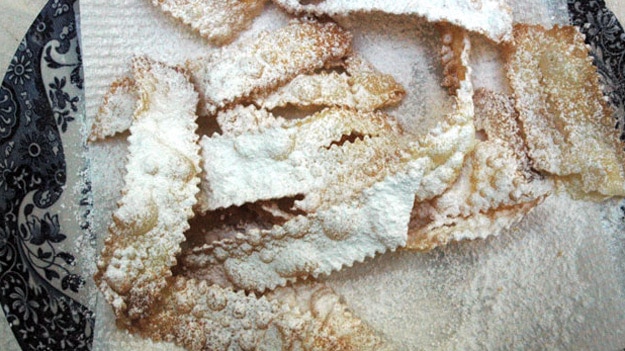 Cuisine:

Italian

Prep Time: 1 hr(s) 20 min(s)
Cook Time: 45 min(s)

Makes approximately 100 crostoli
The food of the angels. Flavoured with citrus zest and grappa, and sprinkled with icing sugar, crostoli are the lightest ribbons of fried pastry and a must for every Italian gathering at Christmas, Easter and christenings. Crostoli are believed to originate from the Veneto region and this version is from Venetian-born chef Vanessa Martin.

Ingredients
500 g plain flour
1 sachet of Lievito Bertolini (vanilla-flavoured raising agent), or 1 tsp baking powder and 1 tsp vanilla extract
3 tbsp icing sugar, plus extra for dusting
grated zest of 1 orange
grated zest of 1 lemon
3 tbsp unsalted butter, softened
1 tbsp grappa (Italian brandy)
3 eggs
cottonseed oil for deep-frying
View conversion table
Preparation
Combine the flour, Lievito sachet (or baking powder and vanilla), icing sugar and citrus zest in a bowl. Rub in the butter until the mixture resembles breadcrumbs. (This can also be done in a food processor.) Add the grappa and eggs and mix with your hands to form a dough. Transfer to a work surface and knead for a few minutes. Cover in plastic wrap and leave to rest for 30 minutes.

Divide the dough into a few pieces so it is easier to work with. Roll the first piece through a pasta machine on the widest setting. Fold it in half and run it through the machine again. Do this several times until smooth, then start rolling it out at narrower settings until you reach the last setting and have a very thin, long sheet. Lay the sheet on a floured surface while you roll out the other pieces of dough.

Cut the sheets into strips 3–4 cm wide (a ravioli cutting wheel with a crimped edge gives a decorative look). Cut a few small slits in the centre of each strip running lengthways.

Deep-fry small batches of crostoli in hot oil (180°C) until pale golden. Drain on paper towel. Dust with icing sugar to serve.

SBS cook's notes
Oven temperatures are for conventional; if using fan-forced (convection), reduce the temperature by 20˚C. | We use Australian tablespoons and cups: 1 teaspoon equals 5 ml; 1 tablespoon equals 20 ml; 1 cup equals 250 ml. | All herbs are fresh (unless specified) and cups are lightly packed. | All vegetables are medium size and peeled, unless specified. | All eggs are 55–60 g, unless specified.

If you enjoyed this Crostoli recipe then browse more Italian recipes, dessert recipes and our most popular hainanese chicken rice recipe.
Italian Restaurants
Displaying 10 of 2165 Italian Restaurants.
Comments (12)
Previous
Page 1
|
2
Next
PLEASE NOTE: All submitted comments become the property of SBS. We reserve the right to edit and/or amend submitted comments. HTML tags other than paragraph, line break, bold or italics will be removed from your comment.
Featured Food & Recipes
Hot Tips
More
Spanish influences
Spanish-influenced Filipino dishes are often served for festive occasions. Known as "fiesta" food, these dishes typically involve more work to prepare and include more expensive ingredients.
Glossary
More
Parsnips
A white-cream-coloured root vegetable with an agreeable peppery taste. A winter vegetable.