Thai recipes and Thai food
About Thai Food
Thai food has been a huge hit in Australia with Thai restaurants in many suburbs and parts of our cities serving a range of curry puffs, soups, curries and stir fries. At its best, the flavours of sweet, sour, salty and tangy are balanced and when used cleverly, you feel your taste buds dance. Eating Thai style is to be served all the dishes at the same time in the centre of the table - no entree/maincourse/dessert here. Rice is an integral part of every meal, along with soup, a couple of curries and side dishes. Thai people eat with a spoon and fork and use the fork to push the food onto the spoon; the fork is never used to actually eat with.
Featured Businesses
For further information about the businesses featured in the Thai epidode of Food Safari,
click here
.
Special Utensils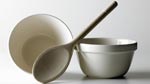 Find out which special utensils you'll need on hand during cooking.
More
Latest Recipes
Thai Restaurants
Displaying 10 of 823 Thai Restaurants.
Featured Food & Recipes
Hot Tips
Tongs or fork
Avoid using a barbecue fork when turning steaks or meat on the barbecue (opt for tongs instead). The fork will pierce the meat encouraging the precious juices to flow out, rather than stay inside the meat and keep it tender.
Glossary
Semolina
Ground durum wheat, available fine, medium or coarse. Used for desserts and to make couscous.