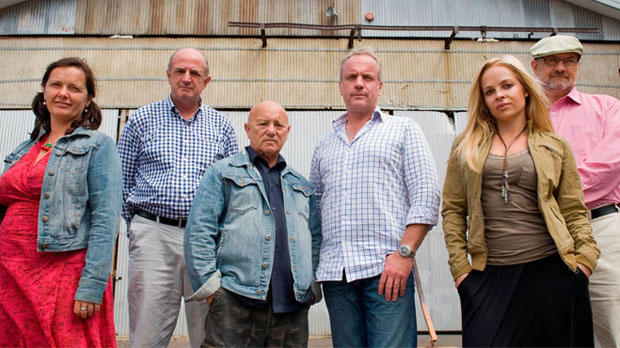 Six prominent faces from Australian politics, television and radio, some with outspoken views on refugees and asylum seekers and others with a connection to the debate, are set to get the nation talking when they feature in the second instalment of Go Back to Where You Came From.

Over three episodes, the six Australians will face mortal danger on the streets of the world's deadliest cities - from the sweltering, war torn capital of Somalia, Mogadishu, to the riotous streets of Kabul, freezing amidst the mountains of Afghanistan. They will travel directly into the eye of a storm - inside the walls of Christmas Island Detention Centre. It's intense, shocking, and one of the most challenging experiences of their lives.
The Participants
I don't accept the boat people at all. Send them home.
- Angry Anderson, rock singer, actor, youth worker and aspiring politician.
We are a signatory of the United Nations Refugee Convention, no one is illegal.
- Catherine Deveny, writer, comedian and social commentator.
Absolutely, unquestionably, we treat people who lob by boat here far too well.
- Michael Smith, former radio shock jock with 2UE and 4BC.
There's a lot of politicians that use these people's suffering for votes, but what's the price of somebody's life to win a vote?
- Imogen Bailey, model, actress, and animal rights activist.
I see a highly prejudicial and polarised attitude towards people who are fleeing persecution to come to Australia, looking for safety and a new life.
- Allan Asher, former Commonwealth Ombudsman and outspoken consumer advocate.
No one can dispute the reality that we did stop the boats.
- Peter Reith, former Howard Government senior cabinet minister, including Minister for Defence from 2000-2001.
- Abdi Aden, Somali refugee who fled Mogadishu in 1991 at age 13.
- Hamid Sultani, an ethnic Hazara from Afghanistan who arrived in Australia by boat in 2010.