SBS Radio News
Nazi garden gnome faces trial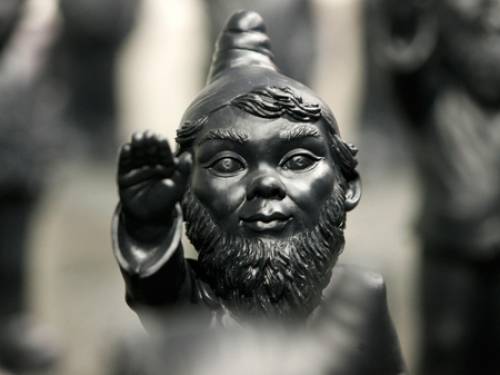 A Nazi garden gnome faces trial as German prosecutors decide whether it is hailing or ridiculing the Third Reich.

German prosecutors say they have launched an inquiry into whether a garden gnome with its right arm raised in a Hitler salute in a Nuremberg art gallery is against the law.
"The investigation is ongoing and people are being interviewed," Wolfgang Traeg, a spokesman for the public prosecutors office in the southern city, told AFP on Thursday.
Ridiculing the Third Reich
Hitler salutes and Nazi symbols have been illegal in Germany since World War II, but Traeg said investigators may establish that the garden gnome is in fact ridiculing the Third Reich.
"It is also a question of art a bit... and a garden gnome," Traeg said. "It will also depend on what the artist and the owners of the gallery have to say for themselves about the whole thing."
The artist in question is German-born Ottmar Hoerl, who has designed numerous exhibitions and projects in public spaces including the large blue euro sculpture in front of the European Central Bank in Frankfurt.
"I was a bit surprised that this gnome has produced a reaction like this. Until now everyone has understood it," Hoerl told AFP, calling his artwork "an image of the German master race".
"I view (this investigation) with a certain irony."
Experience with gnomes
He said he has been making gnomes for the past nine years, and put them on display for the first time in Belgium last year in an exhibition called Dance With The Devil. Others have taken place in Austria and Aschaffenburg, Germany.
Since 2005 he has been president of the Academy for Fine Arts in Nuremberg.
The Bavarian city has particular resonance when it comes to World War II, as it was the scene of huge rallies by Hitler and also where trials of Nazis took place after Germany's defeat in 1945.