SBS Radio News
G20 to replace the G8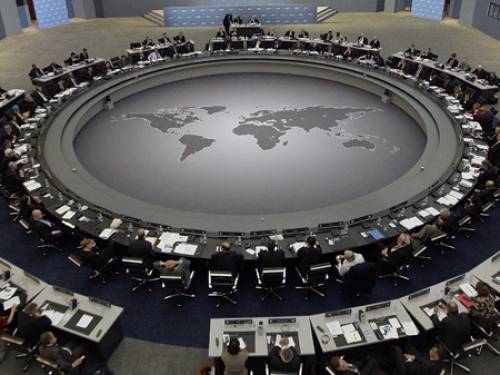 Emerging powers such as China and India will be given more influence as the G20 becomes the world's top economic forum.
World leaders have unveiled a new vision for economic governance, with bold plans to fix global imbalances and give more clout to emerging giants such as China and India.

The Group of 20 summit in Pittsburgh committed the International Monetary Fund to shifting at least five percent of voting rights to the developing world and tasked it with a bigger monitoring role.

The major rejig followed an earlier announcement that the G20 summit of developed and emerging nations would become the world's top economic forum, effectively replacing the G8 of only rich countries.

"Modernizing the international financial institutions and global development architecture is essential to our efforts to promote global financial stability, foster sustainable development, and lift the lives of the poorest," the leaders said, explaining what amounts to a seismic shift in world diplomacy.

Stimulus measures kept in place
The G20 agreed it was too early to begin to scale back the multi-trillion dollar stimulus measures that have helped stave off further economic misery following last year's financial meltdown.

"We will avoid any premature withdrawal of stimulus. At the same time, we will prepare our exit strategies and, when the time is right, withdraw our extraordinary policy support in a cooperative and coordinated way, maintaining our commitment to fiscal responsibility."

During two days of meetings in the aptly re-born former steel city of Pittsburgh, considered a model for economic transformation, there was also tough talk about curbing banking excess, a symbolic issue for many taxpayers.

Leaders, unable to come to enforce measures on the banks, could only muster a pledge -- thin on detail -- to impose "strong international compensation standards aimed at ending practices that lead to excessive risk-taking."

The issue, a highly symbolic one for taxpayers, had been all the rage in the days before the summit with French President Nicolas Sarkozy leading calls for tough action and even threatening to walk out of the summit.
Tighter regulation expected

While bankers might have got off the hook, banks themselves should expect tighter regulation and monitoring as the excesses of the recent past came in for heavy suspicion in a strongly worded part of the G20 accord.

"We call on banks to retain a greater proportion of current profits to build capital, where needed, to support lending," it said.

"All firms whose failure could pose a risk to financial stability must be subject to consistent, consolidated supervision and regulation with high standards."
Power increases for G20

The biggest announcement -- bar the one by Obama, Sarkozy, and British Prime Minister Gordon Brown that Iran had owned up to a second uranium enrichment plant -- came overnight and was about the Group of 20 itself.

"Today, leaders endorsed the G20 as the premier forum for their international economic cooperation," a statement said.

"This decision brings to the table the countries needed to build a stronger, more balanced global economy, reform the financial system, and lift the lives of the poorest."

The G8 -- wealthy nations Britain, Canada, France, Germany, Italy, Japan, Russia, and the United States -- has served in various forms as the premier economic forum since 1975 and holds closely-watched annual summits.

"There is a new global compact," said Andrew Cooper, a regular watcher of global summits and associate director of the Centre for International Governance Innovation in Waterloo, Canada.
More violence expected

As leaders flew back home after a hectic week of international diplomacy that saw them first at the United Nations General Assembly in New York, Pittsburgh braced for a second night of violence.

Riot officers had fired pepper spray and non-lethal rounds on Thursday after a 1,000-strong crowd, led by black-clad hardliners wearing goggles, helmets and masks marched towards the conference venue. Sixty-six people were arrested.

The gathering of the world's 19 biggest developed and emerging economies plus the European Union came just over a year after a US credit collapse triggered a global economic slowdown.

With unemployment still rising steadily in many parts of the globe and the world economy far from out of the woods yet, G20 leaders will be judged on their bold promises the next time they meet.

"The steps we are taking here, when fully implemented, will result in a fundamentally stronger financial system than existed prior to the crisis," their agreement said.

"If we all act together, financial institutions will have stricter rules for risk-taking, governance that aligns compensation with long-term performance, and greater transparency in their operations."

As the predominant economic forum, there will be two meetings in 2010, the first in Canada, before a meeting in France the following year, the first of subsequent annual summits.