SBS Radio News
Factbox: What is Sorry Day?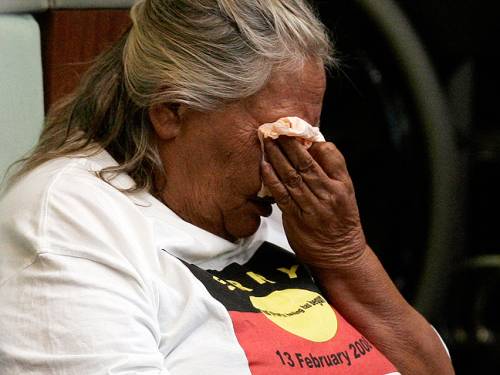 What's the history of 'Sorry Day', and which events will be held around the country to mark it this year?
On 26 May every year, ceremonies, marches, speeches and presentations are held around the country to commemorate Sorry Day, the day on which Australians express regret for the historical mistreatment of Aboriginal people.
The first Sorry Day was held in 1998, one year after the report 'Bringing them Home' was first tabled in parliament.
The report, which resulted from a Human Rights and Equal Opportunity Commission inquiry, documented the forced removal of many Aboriginal and Torres Strait Islander children from their families, between 1910 and the 1970s. The children who were removed have come to be known as the Stolen Generations.
In 1992, Prime Minister Paul Keating made a speech in Redfern, which acknowledged for the first time that 'we took the children from their mothers'.
In 2000, on the 28th May, more than 250,000 people participated in the Bridge Walk across Sydney Harbour Bridge.
The walk, which was organised by the Council for Aboriginal Reconciliation (now known as Reconciliation Australia), was in support of Indigenous Australians and highlighted the issue of the lack of a Government apology to Indigenous people for the Stolen Generations.
In 2005, Sorry Day was renamed as a National Day of Healing for all Australians by the National Sorry Day Committee.
"The Day will focus on the healing needed throughout Australian society if we are to achieve reconciliation" (Extract from the National Sorry Day Council Archives: Senator Aden Ridgeway, National Day of Healing Launch, Great Hall Parliament House, Canberra, Wednesday 25 May 2005).
On the 13th of February 2008, more than ten years after the 'Bringing Them Home Report' was tabled, then Prime Minister Kevin Rudd made a historic, formal apology to Australia's Indigenous peoples; particularly the Stolen Generations and their families and communities, for laws and policies which had 'inflicted profound grief, suffering and loss on these our fellow Australians.'
The apology included a proposal for a policy commission to close the gap between Indigenous and non-Indigenous Australians in 'life expectancy, educational achievement and economic opportunity.'
The human rights-based "Close the Gap" campaign for Aboriginal and Torres Strait Islander health equality was established in 2006, with the campaign blueprint adopted by the Australian government in 2008.
Oxfam says Aboriginal and Torres Strait Islander Peoples are still dying 10 to 17 years younger than other Australians.
Oxfam says babies born to Aboriginal mothers die at more than twice the rate of other Australian babies, and Aboriginal and Torres Strait Islander people experience higher rates of preventable illness such as heart disease, kidney disease and diabetes.
The 2012 Shadow Report, also funded by Oxfam, recommended which steps should be taken by the government to close the gap.
EVENTS
This year, a number of events to mark Sorry Day will be held across Australia including:
• Northern Territory: Saturday 26 May- 2 June, Gagudju Lodge Cooinda National Park, Jim Jim will hold a week long program of cultural activities involving Traditional Owners, Staff and guests to raise awareness of National Reconciliation Week.
• Canberra: Sunday 27 May 12.30pm - BYO barbecue lunch at Reconciliation Place to launch the week followed by a tour of key reconciliation portraits in the National Portrait Gallery by Reconciliation Australia Co-Chair, Tom Calma.
• Melbourne: Sunday 27 May 2.30pm - Reconciliation Week Concert with Deborah Cheetham, William Barton, Monash Academy Orchestra at Melbourne Town Hall.
• Adelaide: Tuesday 29 May 7pm - The Don Dunstan Foundation presents The Honourable Michael Kirby AC CMG to deliver the annual Lowitja O'Donoghue Oration: Constitutions, interventions and other melancholy tales at Bonython Hall North Terrace, University of Adelaide.
• Perth: Wednesday 30 May 10am - State War Memorial Remember Indigenous Service, one of many ceremonies across Australia to commemorate the service and sacrifice of Indigenous by the Department of Veterans' Affairs, the RSL, State & Federal Agencies, Indigenous Veterans and other Ex-Service and Community organisations.
• Sydney: Thursday 31 May 7.30pm - I'm Not Racist But... talk and Q&A session brought to you by NSW Reconciliation Council and All Together Now at the York Theatre, Seymour Centre, University of Sydney.
• Queensland: Saturday 2 and Sunday 3 June 10am-5pm - Townsville Reconciliation Festival - A festival promoting reconciliation and commemorating the 20th Anniversary of the Mabo High Court decision, Strand Park.
Your Comments
Join the Discussion