SBS Radio News
Debate over dancing at Auschwitz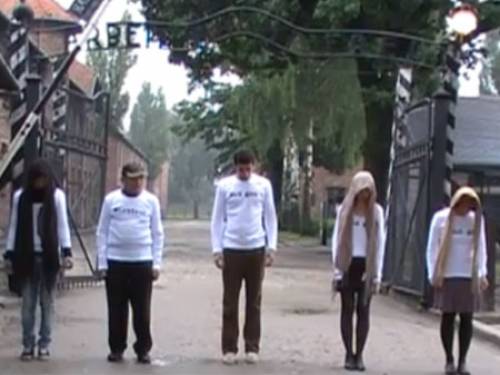 Melbourne artist Jane Korman has defended the decision to film three generations of her family singing and dancing to "I will Survive" outside the Auschwitz death camp.
Melbourne artist Jane Korman has defended her decision to film three generations of her family singing and dancing to "I Will Survive" outside the Auschwitz death camp.

The film, posted on YouTube, shows Korman, her Holocaust-survivor father and her three children dancing in the foreground of the notorious death camp, as well as at a Polish synagogue, a German concentration camp at Dachau, a Czech concentration camp at Theresienstadt and at a Polish memorial to the victims of the Nazi ghetto.


In an interview with the BBC, Korman has described the experience as "extremely awkward and uncomfortable" but says she "had to do it".

Her father, who is now 89, said that he "didn't mind dancing because I arrived with my five grandchildren at Auschwitz.

"If somebody had asked me then, that I would come 62 years later, with my grandchildren, to Auschwitz, I would send him to a madhouse."

The work has attracted both praise and derision online, with some taking offence, but just as many approving of the work's attempt to celebrate survival.

Typical of the responses on YouTube are Miss Cleo's praise:

"He made it, dance where you want and celebrate life. Those who passed would be proud to know that you could make it back."

Another viewer, posting under the user name 'mccluskyslaw' condemned the work, saying:

"How could someone even come up with an idea like this? You are dancing on the graves of our ancestors who did not survive. Utterly revolting."
President of the Jewish Community Council of Victoria, John Searle, said the mixed response was to be expected.
Searle said the video was a "celebration of life" by Korman's father, but he said that he could understand the negative reactions of some viewers.
"Each survivor reacts differently to the savagery they experienced at the hands of the Nazis.
"I can certainly understand that some survivors may not see the video in the way it was intended by the artist," he told SBS.
The video has also reportedly been adopted by anti-Semitic and neo-Nazi groups.
"I am saddened, but certainly not surprised, that some neo-Nazi groups are seeking to exploit the video for anti-Semitic purposes," Searle said.
The work was previously shown at the Runt Gallery, Monash University, Victoria.
Your Comments
Join the Discussion