SBS Radio News
Cuban dissident Farinas detained: report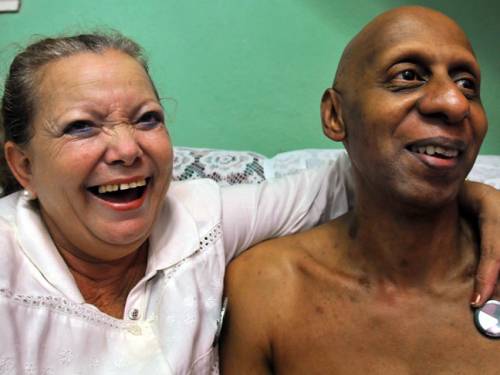 Police have detained former hunger striker Guillermo Farinas on the anniversary of the death of political prisoner Orlando Zapata, Farinas' mother said.
Police detained former hunger striker Guillermo Farinas on Wednesday as he shouted anti-government slogans from his rooftop on the anniversary of the death of political prisoner Orlando Zapata, his mother said.
"Two officers detained him here at home, after he climbed up on the roof and spoke out against the government and paid tribute to Zapata," said Farinas' mother Alicia Hernandez, speaking by phone from her home in Santa Clara, 280 kilometres east of Havana.
After Farinas' arrest, a bus stopped outside the home and some 40 people got out and spent more than an hour chanting pro-government slogans, Hernandez said.
Farinas, the 2010 Sakharov rights prize winner, has been detained and released several times this year by the Americas' only one-party communist regime.
He went on a hunger strike in 2010 after Zapata died at the end of an 11-week fast to protest prison conditions.
Farina's hunger strike lasted for 135 days, ending only after President Raul Castro authorised the release of 52 political prisoners in a deal negotiated by the Roman Catholic church.
Zapata had been jailed since 2003 along with dozens of other Cubans demanding greater freedoms. His death at age 42 drew international outrage.
With tensions running high, police detained at least 20 people in cities across Cuba on Tuesday. There were at least 46 short-term detentions on Wednesday, dissidents said.
The government's tougher tack was on view in Havana, as state security agents fanned out in force from early in the day near the home of Laura Pollan, a leader of the Ladies in White rights movement.
A group of Ladies in White - female relatives of political dissidents - chanted "Zapata is alive and with us, you murderers!" sending about 200 pro-government activists into a frenzy. Pollan said that many of the 40 to 60 protesters who planned to rally with her group were blocked from attending the event.
The pro-government group booed and shouted down the Ladies in White, who march regularly to protest the detention of their relatives.
"This street belongs to Fidel!" pro-government activists shouted, while others chanted "Get out, down with you, you pack of worms!," a term the government uses to insult Cubans who leave their country and live in the United States.
US President Barack Obama said Zapata's death a year ago "galvanized the world's attention to the ongoing mistreatment of those unjustly held by Cuban authorities for bravely standing up for the rights of the Cuban people.
Obama called for the unconditional release of all political prisoners in his statement released in Washington.
"The Cuban people must know that their suffering does not go unnoticed and that the United States remains unwavering in our commitment to defend the inalienable right of the Cuban people to enjoy the freedoms that define the Americas and that are universal to all human beings," Obama said.
The State Department said the United States deplored "the continued intimidation and harassment by the Cuban government of activists and their family members, including Zapata's mother Reina Luisa Tamayo, who are working to promote human rights on the island," spokesman PJ Crowley said earlier.
Human Rights Watch slammed Havana for the political arrests.
"A year after Zapata's tragic death, this latest wave of arrests shows the Cuban government continues to deny its citizens the basic freedoms of assembly and speech," Jose Miguel Vivanco, Americas director at Human Rights Watch, said in Washington.
"Through arbitrary detentions, physical abuse, and threats, the Cuban government has once again shown its willingness to repress its citizens who participate in the most basic civic activities," Vivanco added.