SBS Radio News
Not-so-new iPhone fails to impress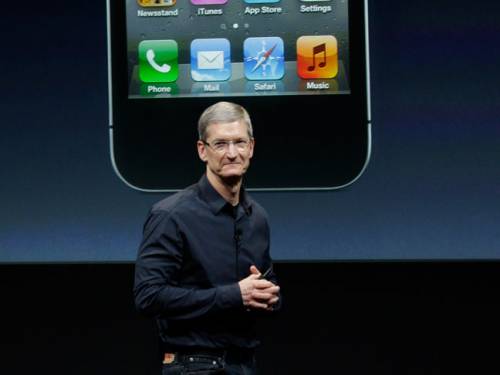 Apple has unveiled a new iPhone that is faster and more powerful but stops short of a more radical upgrade.
Apple Inc has unveiled a new iPhone that is faster and more powerful but stops short of a more radical upgrade.
The new iPhone 4S has an improved camera with a higher-resolution sensor.
The processor is faster, which helps run smoother, more realistic action games.
There had been speculation that Apple would reveal a more radical revision of the phone, an "iPhone 5".
The no-show leaves room for speculation that Apple will reveal a new model in less than a year.
Apple's stock fell nearly five per cent.
Apple is including a "personal assistant" application called Siri in the iPhone 4S.
It responds to spoken questions and commands such as "Do I need an umbrella today?".
It's an advanced version of speech-recognition apps found on other phones.
The new iPhone also comes with new mobile software that includes such features as the ability to sync content wirelessly, without having to plug the device to a Mac or Windows machine.
The iPhone announcement came during Apple's first major product event in years without Steve Jobs presiding.
New CEO Tim Cook led the show after Jobs, who has been battling health problems, resigned from the post in August.
Cook opened by calling his nearly 14-year tenure at Apple "the privilege of a lifetime".
Cook said the latest iPhone, which came out in June 2010, sold more quickly than previous models, but the iPhone still has just 5 per cent of the worldwide handset market.
Apple is hoping to grow that with the new model.
Apple's new mobile software, iOS 5, will also be available on October 12 for existing devices - the iPhone 4 and 3GS, both iPad models and later versions of the iPod Touch.
Apple said October 12 will also mark the launch of its new iCloud service, which will store content such as music, documents, apps and photos on Apple's servers and let people access them wirelessly on numerous devices.
Apple said the new phone will come in black or white.
It will cost $US199 ($A210) for a 16 gigabyte-version, $US299 for 32 GB and $US399 for 64 GB - all with a two-year service contract requirement.
Pre-orders will begin on Friday with availability on October 14.
The previous version, iPhone 4, will now cost $US99 for 8 GB.
The 2009 model, the iPhone 3GS, will be given away for free with 8 GB.
Both also require a two-year service contract.
Apple also touted the popularity of its products and unveiled a new line of iPods, including a Nano model with a multi-touch display that promises to be easier to navigate.
Apple made no mention of its Classic model, which many people had speculated the company might discontinue.
Your Comments
Join the Discussion