SBS Radio News
Landslide win for new Finnish president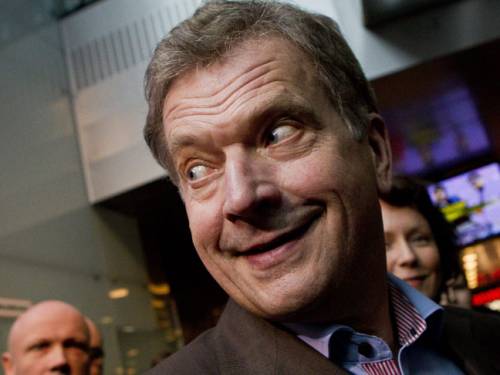 Conservative pro-European Sauli Niinistoe has won Finland's presidential election, ending a 30-year spell of Social Democrat leaders in the country.
Conservative pro-European Sauli Niinistoe has won Finland's presidential election, easily defeating Green liberal challenger Pekka Haavisto as had been widely expected.
"It looks like Niinistoe has won," Mr Haavisto conceded to Finnish public television YLE on Sunday.
"More than one million people have supported me and I'm quite satisfied with that," he added.
Mr Niinistoe was credited with 62.6 per cent of voter sympathies while Mr Haavisto took just 37.4 per cent, Finland's justice ministry said after all votes had been counted.
The definitive results will be confirmed by election officials on Wednesday but the numbers released were in line with what opinion polls had predicted.
"This has been a very good, very sober campaign. I'm happy about it," Mr Niinistoe told YLE.
A no-nonsense career politician, Mr Niinistoe's victory ends a 30-year spell of Social Democratic presidents in the small Nordic country.
In March, he will take over from President Tarja Halonen, a popular leader who has served her maximum of two six-year terms.
Mr Niinistoe's long tenure as finance minister from 1996-2003, during which he was instrumental in leading Finland into the eurozone, was widely seen as lending him credibility throughout the campaign.
This was particularly evident in a first round of voting on January 22, when the eurozone crisis was cited as voters' main concern.
EU policy was recently stripped from the presidency's brief and handed to the prime minister, the latest in a series of gradual cutbacks in the president's powers.
But that did not appear to do Mr Niinistoe any harm.
His National Coalition Party now enjoys both a president-elect and a sitting prime minister, Jyrki Katainen.
Having the National Coalition in charge of both EU and foreign policy was a notion that concerned opposition Centre Party leader Mari Kiviniemi.
"We must remember that the president doesn't get involved in day-to-day politics," she said, recalling that the president decides foreign policy jointly with the multi-party government.
But analysts have predicted that Finland can expect a strong leader in Mr Niinistoe.
He has already indicated that he intends to be closely involved with government, having floated a proposal early in the campaign that he would invite the cabinet to regular sessions at his official residence.
"I will have to focus on what I will do next (in March)," Mr Niinistoe declared Sunday, referring to the date when he will officially take up office.
Mr Niinistoe dominated the first round of voting in January and consistently enjoyed a commanding lead in opinion polls over Mr Haavisto, a 53-year-old liberal in a same-sex partnership with an Ecuadorian hairdresser.
Due in part to his decision to be openly gay, Haavisto was credited with bringing a new openness and sense of tolerance to the country, after the populist, anti-immigration Finns Party soared in legislative elections last year to become Finland's third-biggest party in a result that polarised Finland.
But that stance likely also cost Mr Haavisto the support of older and more traditional voters, analysts noted.
"My normal parliamentary work will continue," said Mr Haavisto, who is head of the Greens parliamentary group, after it became clear that he had lost.
Voter turnout came in at 68.9 per cent, official figures showed, down from 72.8 per cent in the first round.
A vicious cold snap may have kept some voters indoors but the run-off between mostly like-minded candidates may not have been enough to motivate some undecided voters to cast their ballots, observers noted.
"There was not much of a difference between the two candidates in the second round, and that may have shown in the election," EU affairs minister Alexander Stubb, a party colleague of Mr Niinistoe, told YLE.