SBS Radio News
Aussie 'forced' to smuggle drugs to Bali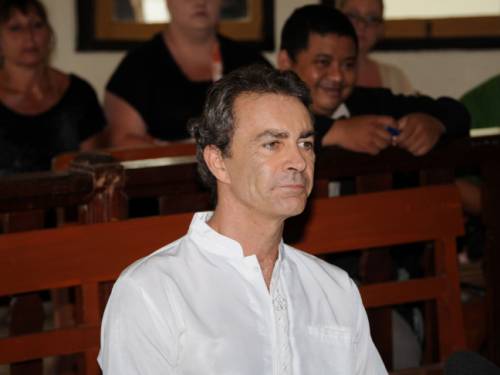 The Australian man facing the death penalty for trying to smuggle drugs into Bali says he was forced to do so.
An Australian man accused of trying to import a large quantity of drugs into Bali in his stomach will claim he was forced into the high-risk mission, which could see him sentenced to death if found guilty.
Edward Myatt faced court for the first time on Wednesday since his arrest in February at Bali's Ngurah Rai Airport, where he was allegedly caught with 1.1kg of hashish and four grams of methamphetamines in plastic casings he'd swallowed.
The 54-year-old showed no emotion and said little as the indictment against him was read out in the Denpasar District Court.
He faces three charges, including trafficking and two counts of possession.
Myatt, from Ballarat, Victoria, but who has lived in England for several years, could be sentenced to death if convicted on the drug-trafficking charge.
The possession charges carry a maximum penalty of life in jail.
He was not required to enter a plea on Wednesday.
Authorities remain convinced he was part of an international drug-smuggling syndicate and may have successfully imported drugs into Bali in the past.
Myatt has allegedly told investigators he bought the drugs in Delhi from a man he knew as "Dr Steve" after travelling to India from Yorkshire, England, where he had been living.
He then allegedly separated the drugs into smaller quantities and wrapped them in 72 plastic casings at his hotel before swallowing them and travelling to Bali.
But his lawyer, Maya Arsanti, told AAP outside the court that he only made the trip under pressure from another man, identified as Roger, who he knew in India.
"Roger forced him to do this," Ms Arsanti she said after the hearing.
Ms Arsanti did not give any more details about the mysterious "Roger", but said the claim will form a major part of the defence's case.
She added that Myatt, a yoga instructor, was a long-term user of drugs.
If this is accepted by the prosecutors and judges, it could see him given a lighter sentence.
People caught with drugs in Indonesia are often treated more leniently by the courts if they can prove they have an addiction.
Bali's chief prosecutor, Gusti Gede Putu Atmaja, however, said he would explore the allegations from narcotics officers that Myatt's trip to Bali in February was not his first as a drug courier.
"That's what we want to find out. I hope not, for his sake," Mr Atmaja told AAP.
"We will find out if this is the first time or second time, or one of many."
Mr Atmaja added he was yet to form an opinion about what kind of sentence would be sought, but said that the evidence against Myatt was overwhelming.
"This is a strong case," he said.
The trial continues next Thursday.