SBS Radio News
Slipper 'character assassination victim'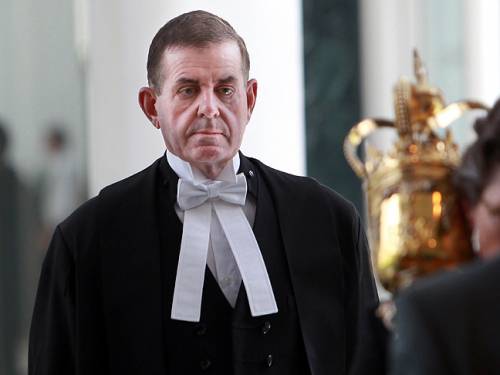 Peter Slipper's lawyer says staffer James Ashby's legal case amounts to an ambush and character assassination.
The sexual harassment case against federal parliamentary Speaker Peter Slipper is "an exercise in ambush" and "character assassination", his lawyer says.
During an often feisty directions hearing in the Federal Court on Friday, barrister Josh Bornstein said the publicity had been "extraordinarily damaging" to his client, Mr Slipper.
But Michael Lee SC, for the plaintiff James Ashby, rejected claims that his client may have engaged in an abuse of process of the legal system.
He also foreshadowed an application for a jury to hear the case, as the matter "quintessentially brings forth issues of social and community values".
In his lawsuit against Mr Slipper and the commonwealth, filed on April 20, Mr Ashby claimed the speaker made unwelcome advances and sent him explicit text messages making his sexual intentions clear after he had joined his staff.
Mr Lee urged Justice Steven Rares to list the matter for hearing as soon as possible, saying it was of public importance to deal with it promptly.
But the judge said Mr Lee could not even tell him how many witnesses he proposed to call and queried why a five-day hearing was required.
"It is unimaginable" that it would take so long for a case involving claims about a few conversations and messages between two people in a relatively confined time frame, he added.
Mr Lee said he may call up to six witnesses, including Mr Ashby, one or two doctors and forensic technicians who would testify about Mr Ashby's mobile phone.
Julian Burnside QC, for the commonwealth, said Mr Lee was "trying to run too fast", the case was not as urgent as suggested and Mr Ashby's credibility would be a central issue.
The Commonwealth accuses Mr Ashby of waging a media campaign and failing to take any steps to resolve his complaints before launching his court action.
From the "blaze of publicity" around the case, the Commonwealth had heard Mr Ashby might make more claims when he received documents as part of the court discovery process, Mr Burnside said.
Mr Bornstein, who appeared via video-link from Melbourne, said he wondered "whether I was on a different planet" after hearing Mr Lee's submissions.
Mr Ashby's originating claim was not properly served on Mr Slipper but the highly salacious and criminal allegations were the focus of a "publicity blitz" in the media, he said.
No internal complaint was made, no application was made to the Human Rights Commission and no other steps were taken to resolve the matter.
Mr Ashby's May 15 statement of claim made it clear the case had been "substantially altered" and a number of salacious allegations had disappeared, as well as criminal claims.
Mr Bornstein noted the statement was released to the press before the document was served on Mr Slipper.
He said it was "an exercise in ambush" and "character assassination", adding his client was getting advice on whether it amounted to "an abuse of process".
Mr Lee said Mr Ashby's reputation had been attacked "in a serious way" in comments by politicians including a senior minister of the commonwealth.
He rejected claims Mr Ashby may have engaged in an abuse of the legal system.
"To suggest the appellant, Mr Ashby, was involved in some sort of attack, throwing allegations as though Your Honour was a Jackson Pollock painting, is completely without foundation."
The judge listed the matter for directions on June 15.