Top Stories

A powerful tornado with winds over 300 kilometres per hour has pulverised an Oklahoma City suburb, hitting at least two schools and wiping out blocks of homes. Twenty of the 51 people killed are children, an official says. Read more
SBS Radio News
Evicted protesters call for official probe
18 May 2012, 4:45 pm
-
Source: AAP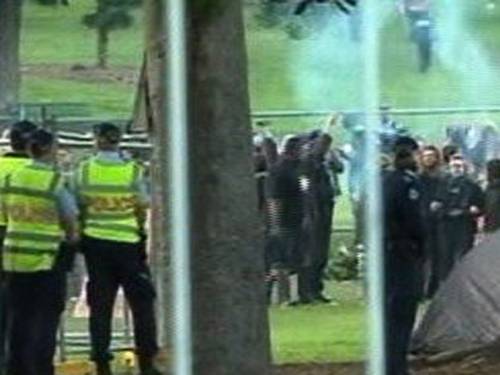 Aboriginal protesters want Queensland's corruption watchdog to investigate who called in hundreds of police to evict them from a Brisbane park.
Protesters evicted from an Aboriginal tent embassy have taken their fight to Queensland's corruption watchdog.
The moves came after more than 200 police moved protesters out of the makeshift tent embassy in Musgrave Park in South Brisbane on Wednesday.
Indigenous activist Sam Watson led a group of about 15 protesters to the Crime and Misconduct Commission's headquarters on Friday.
They have lodged complaints against Premier Campbell Newman, Brisbane Lord Mayor Graham Quirk, Police Minister Jack Dempsey and Police Commissioner Bob Atkinson.
Mr Watson told reporters he hoped the CMC would get to the bottom of who called police in to evict the protesters.
"We're going to ask the CMC to urgently and immediately investigate the way in which heavily armed police came in and brutally closed down a peaceful site of Aboriginal protest," he said.
The protesters denied they were using the CMC as a political tool.
Embassy spokesman Wayne Wharton said people inconvenienced by traffic delays caused by the police action deserved to know who was responsible.
He said "everyone was blaming each other" for how the protesters were dispersed on Wednesday.
"The taxpayers of Brisbane deserve a proper answer ... and I think the blame is with an immature premier and an immature mayor that have basically called in enforcement," Mr Wharton said.
"They are not willing to accept responsibility for their very mischievous behaviour."
Mr Watson also called on the state government to hand back control of Musgrave Park to the indigenous community.
The Brisbane City Council has said it was responsible for calling in police after the protesters ignored an eviction order.
Comment is being sought from Mr Newman and Mr Quirk.