SBS Radio News
Facebook falls flat in market debut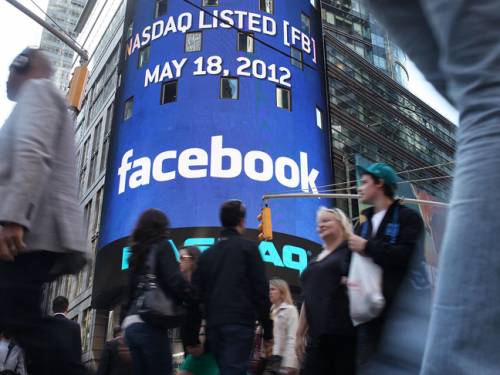 Facebook had a lacklustre debut on its first day of trading and analysts say it will take some time before its real value becomes apparent.
Facebook stumbled on its first trading day, as shares ended barely above the starting price after a glitch-plagued market debut on the Nasdaq that failed to live up to hype.
The stock, priced at $38 on Thursday in the largest-ever initial public offering (IPO) for a technology firm, eked out a gain of just 0.61 per cent on Friday to end at $38.23, amid record volume of more than 575 million shares traded.
Shares in the social network titan saw rollercoaster action in what was one of most keenly awaited stock issues in history. The day began with a 30-minute delay in trade, an incident regulators are still reviewing.
Shares jumped 12 per cent to $42.55 in opening trade but within minutes fell back to the offering price. A midday rally failed to sustain its momentum and the price tailed off before the close.
"The negativity in the market overall has put a damper on the IPO," said Darren Hayes, a Pace University professor and former investment banker.
"It's not uncommon in an IPO to see a big rise and then for the price to come back down, but I'm a bit surprised after all the hype to see such a small gain."
A report on the Business Insider financial blog said the price held at $38 because of a large number of standing orders at the offering price. The Wall Street Journal said the underwriting investment banks had stepped in to support the price.
"It's hard to know what would have happened if the banks hadn't stepped in," said Lou Kerner of the Social Internet Fund, raising questions about what will happen to Facebook's share price when the Nasdaq reopens on Monday.
James Hughes, chief market analyst at London's Alpari, said "the real value of Facebook is not likely to be known until the hype of the IPO has died away and investors have been able to digest how the company is going to evolve to be the money-making machine many expect it to be".
Investors were expected to be hungry to get a piece of Facebook, which has become a global phenomenon since its humble beginnings in 2004 as a project of then-Harvard student Mark Zuckerberg and his classmates.
Zuckerberg, 28, wearing his trademark hooded sweatshirt, remotely rang the bell to open the Nasdaq, marking the start of trade.
He told the crowd at the company's new campus in Menlo Park, California, that going public was a "milestone" but added: "Our mission isn't to be a public company. Our mission is to make the world more open and connected."
Trip Chowdhry, who follows Facebook for Global Equities Research, said the "lacklustre" opening was because the company had failed to answer crucial questions about how it will boost revenues and adapt to the mobile internet.
"Management cannot sing and dance around the key issues," he said.
There are concerns about Facebook's long-term ability to generate ad revenues, fuelled by General Motors' decision earlier this week to pull its advertising.
GM had been spending about $10 million on paid advertising and $30 million on unpaid marketing on Facebook.
Another shadow hanging over Facebook is privacy.
Some consumer and privacy advocates say Facebook has been too loose with user data and hope that as a publicly traded company it may change its tune.
The IPO gave Facebook a dizzying value of $104 billion at its market debut.