SBS Radio News
Modern fleet requires less jobs: Qantas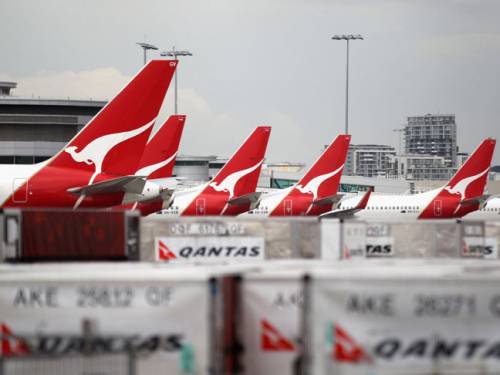 Qantas CEO Alan Joyce says the decision to stop heavy maintenance at Melbourne's Tullamarine airport is due to the airline's more modern fleet requiring less work.
Qantas Airways has flagged more job losses may be on cards after confirming it would cut 500 maintenance positions.
Qantas chief executive Alan Joyce said the decision to stop heavy maintenance at Melbourne's Tullamarine airport, which will save between $70 million and $100 million a year, was due to the airline's more modern fleet requiring less work.
"This is clearly no jobs going offshore. This is work that no longer exists," Mr Joyce told reporters in Sydney on Monday.
"I believe this decision answers our business requirements, while ensuring we maintain a strong Qantas engineering capability."
However that failed to impress Australian Workers Union Victorian branch secretary Cesar Melham, who called on the government to intervene.
"This should be done in the interests of our nation's capability and future security," Mr Melham said.
"We have no guarantees from Qantas about how they will ensure the long-term viability of aircraft maintenance in this country."
Brisbane will now conduct heavy maintenance on Qantas's Boeing 737s, which were previously done at Tullamarine, as well as Airbus A330s.
Mr Joyce said Tullamarine had no scheduled heavy maintenance work between August 2012 and January 2013.
Qantas said the introduction of new technology and modern aircraft was expected to reduce its heavy maintenance workload by 60 per cent over the next seven years.
Mr Joyce said this almost certainly meant Qantas would eventually move to a single heavy maintenance facility, with Brisbane the front-runner.
"We know we have to move to one maintenance facility over time," he said.
While no timeframe was put on when this would occur, that puts Qantas's Avalon site in the spotlight.
While Avalon will remain open for now - doing heavy maintenance work on Boeing 747s, aircraft reconfiguration work and any overflow jobs from Brisbane - its future looked uncertain.
The airline said the retirement on five 747s this year mean about 130 jobs would no longer be required at Avalon.
"We do expect there will be further changes to Avalon as our business continues to modernise," Mr Joyce said.
The decision to close Tullamarine came after a review of Qantas's three maintenance facilities that commenced in February.
Australian Manufacturing Workers' Union national secretary Paul Bastian sais Qantas' decision was short-sighted.
"Not only does it have a devastating impact on workers at Tullamarine and their families, it threatens the very capability of Australia to continue to maintain its aircraft," Mr Bastian said.
Qantas said it would offer voluntary redundancies, relocation packages for affected workers interested to go to Brisbane, and redeployment to other roles within the company.
However, compulsory redundancies were expected.
On a positive note, Qantas said it would have 30 new positions available in line maintenance in Melbourne and five jobs in Sydney.
"Consolidating heavy maintenance and other engineering initiatives will give us savings of between $70 and $100 million per year," Mr Joyce said.
Tyndall Investment Management senior research analyst Michael Maughan said it was now up to the unions and Victorian government to show why Avalon needed to stay open.
"The onus will be on them to convince Qantas that it is economic to keep Avalon longer term," Mr Maughan said.
Qantas closed steady at $1.43.