SBS Radio News
Blast near UN monitors causes Syria deaths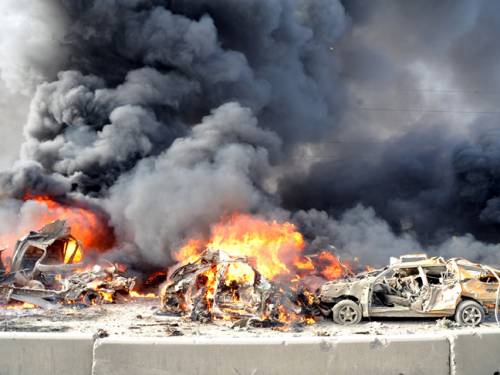 A rocket-propelled grenade has exploded near a team of UN observers in a Damascus suburb, as dozens of people were killed.
A rocket-propelled grenade has exploded near a team of UN observers in a Damascus suburb, as dozens of people were killed in violence while clashes raged between regime troops and armed rebels.
At a NATO summit in Chicago, alliance chief Anders Fogh Rasmussen voiced concern about the violence, but said NATO had "no intention" of taking military action against the regime of President Bashar al-Assad.
No one was hurt in the Douma blast, which came as UN truce mission head Major General Robert Mood and peacekeeping chief Herve Ladsous were leading observers around the north Damascus suburb, an AFP correspondent reported.
But elsewhere in the country at least 48 people were killed, including 34 in an assault by regime forces on a village in central Hama province, the Britain-based Syrian Observatory for Human Rights said.
Syrian troops rained shells down on the village of Souran, it said, describing the deaths as a "massacre" and urging UN observers to deploy immediately in the area.
The device in Douma, a rocket propelled-grenade according to a Syrian army officer in the area, exploded just a few dozen metres from the UN team.
The UN observers could not immediately confirm the nature of the explosion but urged all parties to respect the ceasefire that went into effect on April 12 and put an end to fighting.
"I think this is clearly one of these situations where it is absolutely imperative that all parties exercise restraint and do not engage in any more fighting," said Ladsous.
"There is not a ceasefire. But there has been a decrease in the level of violence... in large part thanks to the presence of the UN observers. It is clear at the same time that the ceasefire is not complete," he said.
Ladsous also reported meeting Syrian Foreign Minister Walid Muallem earlier on Sunday to discuss the observers' mission.
"There are still some aspects that need to be discussed regarding the function of the mission," said Ladsous, adding "there were still more aspects that needed to be looked at and worked out cooperatively."
State-run SANA news agency said Muallem informed Ladsous that armed rebels had violated the UN-backed ceasefire hundreds of times.
"The armed opposition has carried out 3,500 violations since the ceasefire was established," Muallem's spokesman Jihad Makdisi was quoted as saying.
Fierce clashes between regime troops and rebels determined to oust Assad from power had been underway in Douma and other parts of Damascus since the early hours of the day, activists said.
The Observatory said regime forces shelled the outskirts of Douma overnight with rockets crashing into the suburb during the day.
Sunday's blast followed several other close calls for the UN monitors since they deployed in Syria, where 260 observers are now on the ground according to Mood.
NATO governments have come under criticism for backing an air war in Libya but ruling out military intervention in Syria, where opposition demonstrators and badly outgunned rebels have been hammered by heavily-armed regime forces.
Rasmussen urged the Syrian regime to comply with a UN ceasefire and peace plan, saying it was "the best platform for finding a solution in Syria".
The United States is supplying communication equipment and night-vision goggles to Syrian rebels, but so far has stopped short of openly arming the rebels.
In Hama province "thirty-four people were killed under shelling and gunfire in Souran village while it was being raided," the Observatory said, adding that children were among the dead.
Elsewhere across the country 14 other people were killed in violence on Sunday, it added.
The latest violence came after the G8 nations said a "political transition" was needed to end the crisis in Syria, where monitors say more than 12,000 people have died in a government crackdown since March 2011.