SBS Radio News
Opposition grills Gillard over Thomson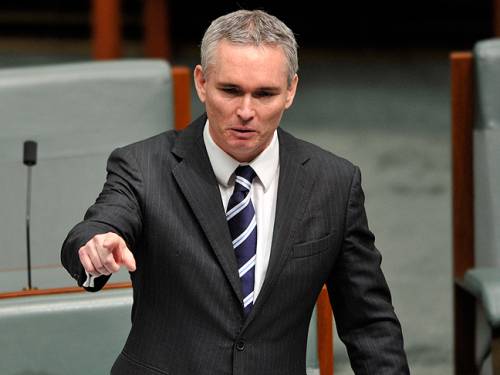 Opposition Leader Tony Abbott has continued to hammer Prime Minister Julia Gillard over the Craig Thomson scandal on another lively day in parliament.
Federal Opposition Leader Tony Abbott is piling the pressure on the prime minister over the Craig Thomson scandal, prompting Labor to accuse him of trying to create "chaos" to bring down the government.
Julia Gillard returned to parliament on Wednesday from a NATO summit in Chicago after missing Mr Thomson's statement to parliament on Monday and a day of debate on standards of conduct for MPs.
With the government's backing, Mr Thomson has been formally referred to the powerful privileges committee, which will examine whether he misled the house when addressing allegations of misusing union funds.
But Mr Abbott remained on target, asking Ms Gillard in question time to explain why she felt "a line had been crossed" by Mr Thomson when he was suspended from the Labor caucus almost a month ago.
The prime minister said her decision was about upholding "respect for the parliament", but she did not believe parliament should judge Mr Thomson's case.
Mr Abbott pressed for more detail, asking whether Ms Gillard believed Mr Thomson's reply rejecting Fair Work Australia's investigation of his conduct when he was national secretary of the Health Services Union (HSU).
Labor moved two gag motions to cut time for the debate.
Leader of the House Anthony Albanese argued comments by Mr Abbott and opposition business manager Christopher Pyne were out of order because the privileges committee, which has the power to impose a suspension or a fine, was about to look at the Thomson matter.
But independents Tony Windsor and Rob Oakeshott made a rare show of support for the coalition in opposing the gag motions.
Mr Abbott said the prime minister was running a "protection racket".
"I am not seeking for the parliament to judge whether Craig Thomson's guilt or innocence on the civil or criminal charges that could be brought against him," he told the house.
"What I do think the parliament ought to be able to judge is whether he has upheld the ordinary standards of the parliament, of which the most important one is not to mislead the parliament."
Mr Albanese said Mr Abbott would never be satisfied, despite a "comprehensive" statement from Mr Thomson and the privileges committee referral.
"His aim is not to have an end, his aim is to have a climate of chaos upon chaos," Mr Albanese told reporters.
The privileges committee - which meets on Wednesday night - could call witnesses, including current Health Services Union (HSU) officials and an industrial investigator, to test Mr Thomson's statement.
The committee members are independent Tony Windsor, four Liberals and six Labor MPs, including chair Yvette D'Ath.
Meanwhile, a censure motion against Mr Thomson proposed by Independent Rob Oakeshott could be brought on this week.
But it's more likely to happen on June 18, when Ms Gillard will again be overseas.
In any case, the motion is likely to fail because most of the crossbench MPs are expected to side with Labor.
Meanwhile, the opposition has withdrawn a motion to suspend Mr Thomson from parliament for 14 days over the "grave findings" in the FWA report.