SBS Radio News
Facebook sinks as US stocks close flat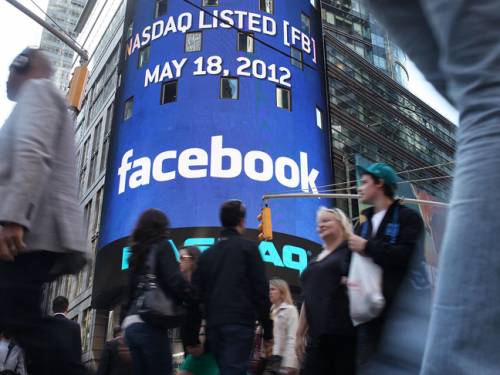 Despite early help from data showing US existing house sales increased, Wall Street has ended flat with investors dumping Facebook shares for second day.

US stocks have given up early gains and finished mostly flat as investors dump Facebook shares for a second straight day amid new controversy about the company's $US16 billion ($A16.20 billion) IPO.
A last-minute rebound allowed the S&P 500 to finish in the black, but the other indices counted small losses for the day after the morning trading hours registered strong gains.
The Dow Jones Industrial Average slipped 1.97 points, or 0.01 per cent, to finish at 12,502.81.
The broad-based S&P 500 index rose 0.64 (0.05 per cent) to 1,316.63, while the tech-heavy Nasdaq lost 8.13 (0.29 per cent) to 2,839.08.
The markets got early help after the National Association of Realtors reported US existing home sales across all regions in the United States increased in April, by 3.4 per cent, and home prices continued to rise.
Lawrence Yun, NAR chief economist, said the trend "has shifted from a buyers' market to one that is much more balanced, but in some areas it has become a seller's market."
But selling overall clicked in during the afternoon, with a rebound in only the last 10 minutes of trade preventing significant losses for the day.
Bank shares were strong, with JPMorgan Chase, under pressure over its derivatives trading losses, surging 4.6 per cent.
It was followed by Bank of America, up 2.2 per cent, and Citigroup, adding 2.6 per cent.
Facebook action dominated Nasdaq trade again, the share falling another 8.6 per cent in its third day of trade as accusations flew that leading underwriters had cut their projections days ahead of the initial public offering Friday.
The shares fell as far as $30.94, and closed at $31.12, leaving them 18.1 per cent below the $38 IPO price.
Google finalised its $12.5 billion deal for Motorola Mobility, hoping that the purchase of the smartphone maker will give it a stronger, lasting position in the wireless industry.
Google shares fell 2.2 per cent after having risen a similar amount the day before.
Shares in US cloud-based e-commerce firm Ariba zoomed up 19.2 per cent after German business software giant SAP announce it would buy the company for $4.3 billion.
The bond market retreated. The yield on the 10-year Treasury rose to 1.79 per cent from 1.74 per cent Monday, while the 30-year climbed to 2.89 per cent from 2.79 per cent.
Bond prices and yields move in opposite directions.