SBS Radio News
Indefinite detention challenged in High Court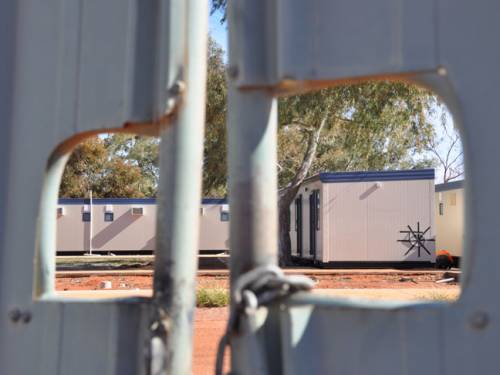 A Sri Lankan refugee is making a High Court bid to challenge the indefinite detention of 51 refugees ASIO deems national security risks.

A Sri Lankan refugee is making a High Court bid to challenge the indefinite detention of 51 refugees ASIO deems national security risks.
Melbourne human rights lawyer David Manne is leading the challenge.
Mr Manne says the case will test whether the Australian Security Intelligence Organisation is obliged to tell the refugees why they are considered security threats and whether their cases should be independently reviewed.
He says it will also test whether it is lawful to lock refugees up indefinitely.
"The law requires a fair process, which means knowing the case against you," he told ABC Television.
"A refugee is locked up indefinitely on the basis of a negative security assessment made under a secret process."
Mr Manne said it was like being sentenced to "life imprisonment without being charged, tried and convicted".
The court documents name five defendants - ASIO's director-general, Melbourne Immigration Transit Accommodation boss, Department of Immigration secretary, Immigration Minister Chris Bowen and the Commonwealth of Australia.
A spokesman for the minister declined to comment because the matter was heading to court.
Liberal frontbencher George Brandis said the applicants will have a "big hurdle" to clear.
"ASIO threat assessments are neither a judicial or quasi-judicial process," he told the ABC.
He said the opposition did not support weakening the powers of ASIO in making threat assessments.
Mr Manne's legal team successfully challenged the Gillard government's asylum-seeker swap deal with Malaysia, which led to the policy being scuttled and offshore processing of asylum seekers being cast in legal doubt.
'ASIO SYSTEM MUST STAY'
The federal coalition says ASIO is best placed to make assessments of any potential security risks posed by asylum seekers.

Opposition immigration spokesman Scott Morrison made the statement on Thursday as a human rights lawyer launched a High Court bid challenging the indefinite detention of 51 refugees deemed by ASIO to be national security risks.

Asked if the courts should be able to review ASIO the decisions, Mr Morrison said the coalition believed the matters were best handled by the agency.

"We believe those assessments are things that the government of the day must rely on and their procedures and processes are very important to the security of this country," he told reporters in Canberra.

"We believe that is a matter that is best done within ASIO using the current process."

Mr Morrison also referred to evidence presented by ASIO to a recent inquiry showing people arriving in Australia by boat were 20 times more likely to receive a negative assessment.

"They also said that people who'd come by plane and who'd sought asylum, not one person in the last three years ... had received a negative ASIO clearance."

The Australian Greens will next week introduce legislation in parliament to allow refugees to question and ultimately appeal negative ASIO assessments.



Your Comments
Join the Discussion