SBS Radio News
NSW MPs told 'to soften' on gay marriage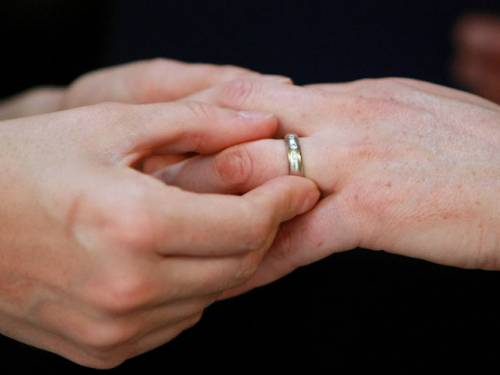 Emotional scenes have been on display in NSW's upper house as politicians use their conscience vote to debate their views on gay marriage.
Members of the NSW parliament have been urged to soften their hearts during a historic and emotional debate on gay marriage.
With increasing pressure to change what opponents say are discriminatory marriage laws, NSW is the latest Australian legislature to bring the issue to the floor of parliament.
A federal parliamentary inquiry is already under way into three private member's bills aiming to change the Marriage Act to recognise gay couples, following a vote at the ALP National Conference to give Labor MPs a conscience vote on gay marriage.
Emotions ran hot on Thursday as Labor and coalition members in the NSW upper house used their conscience votes to cast personal views on legalising same-sex marriage.
In her opening address, Greens MP Cate Faehrmann, who introduced a motion calling on the federal government to legalise same sex marriage, said marriage equality was not a federal issue but a moral one.
"I firmly believe this parliament has an obligation to make representations to the federal parliament to give a voice to the majority of our citizens here in NSW who support marriage equality," she said.
Labor MP Penny Sharpe backed the motion, saying Australia could not continue with an argument that some people were less equal than others.
"It matters to the gay and lesbian, bisexual, transgender and intersex kids who are growing up being told that there is something wrong with them and that they are not worthy of equal treatment before the law," she said.
Several MPs choked back tears as they recounted personal accounts of family and friends who cannot legally marry.
Liberal MP Trevor Kahn told the house gay marriage was inevitable and the government would eventually bow to the will of the people.
"We shouldn't just allow gay marriage, we should insist upon gay marriage, we should regard it as scandalous that two people would claim to love each other and not want to sanctify their love with marriage and fidelity," he said.
But Christian Democrat Fred Nile said he would oppose the motion, saying marriage had been designed by God.
In the public gallery, supporters of gay marriage applauded MPs who supported the motion.
Australian Marriage Equality National Convener Alex Greenwhich later said it was a historic day in the fight for marriage equality.
"The really emotional and heartfelt speeches today show that marriage equality is an issue that touches people and family throughout the state and also across all political persuasions," he told AAP.
Other supporters pleaded for the government to pass the motion.
"I don't need the state to recognise my relationship for me ... I know the value of my own family, I need the state to tell the people who aren't part of my family what my value is," Queer Officer for the Council of Australia Postgraduate Associations Angelis Morningstar told AAP.
The house was due to vote on Ms Faehrmann's motion on Thursday but the number of MPs who wanted to voice their opinion was so large debate was adjourned until next Thursday.
Tasmania and the ACT have passed similar motions calling for the federal government to amend the Marriage Act.