SBS Radio News
Factbox: Egypt's presidential candidates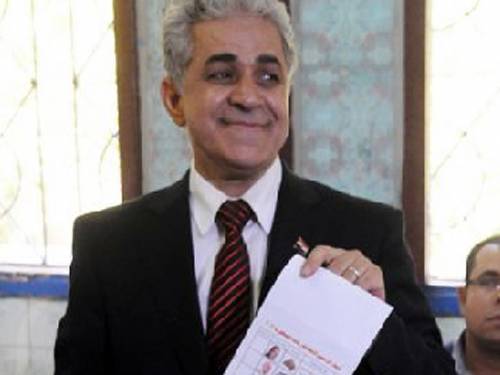 Who are the candidates Egyptians are voting for in the first presidential elections after the overthrow of Hosni Mubarak?
Update: Only the top two candidates remain.
AHMED SHAFIK: MILITARY STRONGMAN

The common term used in Egyptian media is 'felool' to describe remnants of the regime. Mr Shafik is widely regarded as SCAF's felool candidate because of his military credentials and extensive ties with the former regime.

He was the civil aviation minister but in the 18 days leading to Mubarak's overthrow, he was promoted to the post of prime minister.

Mr Shafik appeared on television urging protesters to abandon their cause and return to their homes.

On the election trail, Shafik has sought support from Egypt's beleaguered minority of Coptic Christians who make up nearly 12 per cent of the population and are fearful of an Islamist president who will not safeguard their rights.

He also has the confidence of several elite rural clans in Upper Egypt who have economic interests tied with former Mubarak officials.

Ahmed Shafik has been forthcoming about his close personal relationship with SCAF Commander Field Marshall Huseein Tantawi.

Further, Mr Shafik has campaigned on the platform of national security being a crucial priority prompting the fears of many liberals that violence will return to the streets.
MOHAMMED MORSI: MUSLIM BROTHERHOOD CANDIDATE

As one of the leading front runners, Mr Morsi was actually not the Freedom and Justice's party first choice. He has been ridiculed in the Egyptian media as the 'spare tyre' candidate.

This is because he was only selected after Khairat Al Shater, the Muslim Brotherhood's deputy chairman and multi-millionaire financier was disqualified during the nomination process.

Al Shater had did not meet candidacy requirements due to his stint in prison during Mubarak's era only being released in March last year. He was expected to galvanize the Islamist vote.
The following candidates were frontrunners who fell from the race.

MOHAMMED ABOUL FOTOUH: MODERATE ISLAMIST

Newsweek has dubbed him 'the irresistible Islamist' as he has managed to gain the support of many liberals, secularists and even hard-line Islamist Salafis.

A physician by training, Aboul Fotouh was one of the prominent leaders of the Muslim Brothehood for 25 years and defected from the religious group last year to devote himself to political campaigning.

During Egypt's first televised debate between presidential candidates, Aboul Fotouh was seen to be more genuine and appealing to a wide audience with his moderate brand of Islamist philosophy, compared to the more politically savvy Amr Moussa, former Secretary General of the Arab League and a foreign minister during the Mubarak presidency.

AMR MOUSSA: THE STATESMAN

Mr Amr Moussa is respected internationally for serving as Secretary General of the Arab League for 10 years and as Egypt's foreign minister for 10 years under Mubarak.
.
However, he has spent considerable time earlier in his campaign trying to dispel his image as a former Mubarak crony by saying that he supported the January 25 youth-led revolution.

In the debate with Abol Fotouh, he continuously affirmed his foreign policy experience and secular background as assets to be valued in his run for presidency in contrast to a state governed by an Islamist.

HAMDEEN SABAHI: LEFTIST REVOLUTIONARY

Mr Sabahi's popularity is slowly surging with an endorsement most recently from The Revolutionary Youth Coalition which is an umbrella group of several youths of various political backgrounds who participated in the January 25 uprising.

He represents the candidate most aligned with the social justice platform exposed by many revolutionaries.

The former left wing Nasserist student activist has been jailed 17 times under two presidents and was also on the front-line from the first day of the revolution last year.

Hamdeen Sabahi has expressed scrapping exports of natural gas to Israel and has been critical of the Supreme Council of Armed Forces' (SCAF) slow handover of power to a civilian government.

He has also proposed a tax called 'Tahrir tax' requiring wealthy Egyptians to pay 10 per cent of their assets in a lump sum payment as part of a wealth distribution scheme. Mr Sabahi has had a strong showing among overseas Egyptian votes.