SBS Radio News
Egypt's Brotherhood scrambling for support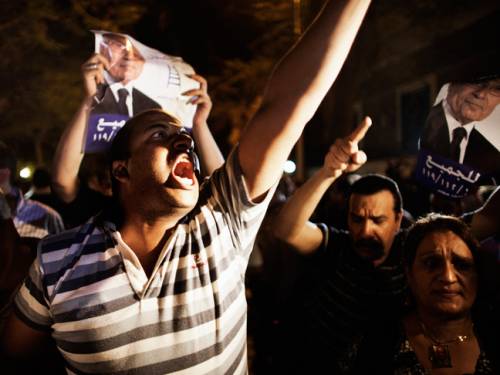 The Muslim Brotherhood's candidate for president of Egypt is widely viewed as mediocre and must broaden his appeal to win the June run-off.
The Muslim Brotherhood is scrambling to broaden its appeal to liberals, leftists and Christians after official election results showed that the Islamist group's candidate will face ousted autocrat Hosni Mubarak's last prime minister in next month's run-off for president of Egypt.
Violence flared late Monday when several hundred people ransacked the Cairo campaign headquarters of the ex-premier, Ahmed Shafiq.
They smashed windows, threw out campaign signs, tore up posters and set the building on fire, according to witnesses and security. No one was hurt. The office is in a Cairo residential neighbourhood.
The Brotherhood's candidate, Mohammed Morsi, will go head-to-head against Shafiq, also a former air force commander, in the June 16-17 runoff. They were the top vote-getters in last week's first round of voting.
Announcing the final results, election commission chief Farouq Sultan said that Morsi won close to 5.8 million votes, or almost 25 per cent, while Shafiq garnered 5.5 million votes, or nearly 24 per cent. Finishing third was leftist candidate Hamdeen Sabahi with 4.8 million votes, or about 21 per cent.
To get the support it needs, the Brotherhood must tone down its religious rhetoric and offer far-reaching concessions, such as protecting the right to protest and strike, election-watchers said.
None of the 13 candidates had been expected to get the more than 50 per cent of the vote needed to win outright. Still, Morsi's top finish was a surprisingly strong showing, because he was widely viewed as a weak candidate and because the Brotherhood's popularity has eroded recently because of a series of missteps.
Soon after the election commission announced the results, several hundred Sabahi supporters gathered in Cairo's Tahrir Square, the birthplace of last year's uprising, chanting slogans against the military, Morsi and Shafiq. Similar numbers gathered in the Mediterranean port city of Alexandria, where some of the protesters tore down a large Shafiq poster.
Turnout among the country's 50 million registered voters was more than 46 per cent, Sultan said.
Shafiq is widely viewed as an extension of the Mubarak regime, and the Morsi-Shafiq runoff is the most polarising contest possible. In many ways, it mirrors the conflict between Mubarak, himself a career air force officer like Shafiq, and the Islamists he jailed and tortured throughout his years in power.
For Morsi to win, said Khaled Abdel-Hameed, one of the leaders of last year's 18-day uprising against Mubarak, he must make concrete concessions on specific issues.
"A protest boycott of the election is an option," said Abdel-Hameed.
"If not, we want Morsi to adopt a package of legislation guaranteeing freedoms, labour union activity and the right to strike and protest."
The US-educated Morsi appears willing to broaden his appeal but has offered few specifics.