SBS Radio News
'I'm not racist but…': A forum on racism in Australia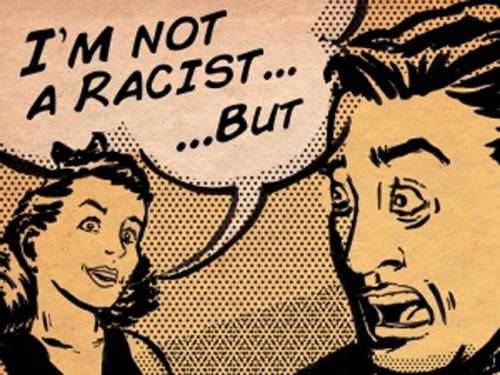 Can you joke about race? Comedian Nazeem Hussein can at least joke about racism.

Can you joke about race?

Comedian Nazeem Hussein can at least joke about racism.

"You can just call me Nathan!" he once told a barista who asked him to change his name because it was to "hard" to write down.

NSW Reconciliation Council and Sydney Ideas forum organised a distinguished panel in Sydney to discuss the provocatively titled topic "I'm Not Racist But…".

The forum coincides with National Reconciliation Week which is held every year from May 27th to June 3rd to promote better relations and awareness between Aboriginal & Torres Strait Islander people and the broader Australian community.

It marks two important dates: the referendum which gave citizenship to indigenous people and the landmark Mabo ruling.

The national theme for this year is entitled 'Let's talk recognition' in reference to recognising Indigenous people in the Australian constitution.

Speakers addressed the subtle and covert forms of racism that occur daily, marking a shift from blatant racism.

The panel comprised of Race Discrimination Commissioner Helen Szoke, 2011 United Nations Australian Youth Ambassador Benson Saulo and comedians Jennifer Wong and Nazeem Hussain.

Mr Hussain spoke about the 'funny side' of being confronted with racism.

"When I was ordering coffee, the barista asked for my name and I said Nazeem and she said that's hard, can you change that please? I was so shocked, I thought to myself, I'm a funny and witty person and my comeback ended up being 'you can just call me Nathan!'".

Mr Hussain, one half of Melbourne comedy duo 'Fear of a Brown Planet', talked about ingrained institutional racism and says he uses his comedy to challenge existing stereotypes about the diverse Muslim community.

He put it into a historical context by explaining how American stand-up comedy started with Jewish and African-American comedians exploring issues of cultural identity and making it accessible to mainstream audiences.

Dr Szoke spoke to SBS about using comedy to demonstrate the daily reality of racism for many individuals and communities.

"Comedy and racism are really tricky areas. I think what we heard from the two comedians put enormous depth to understanding the differentials of power and knowing when to draw the line about comedy and respect."

The soon-to-be-launched National Anti-Racism Strategy, which included online submissions and a series of consultations with various communities around Australia, aims to bring greater awareness to the effects of racism.

"We are going to shine a light on racism. People other than in sport don't talk about racism and they don't name it. They don't name it as a problem," Dr Szoke says

"What am I going to do as an employer? I have got my cultural diversity policy but what am I going to do about racism… and that's the kind of conversation that I hope we start with the National Anti-Racism strategy.

"We name the problem and we address it. We have been too scared to do that with racism".

Her own upbringing and cultural experiences have provided plenty of material for comedian and writer Jennifer Wong. But at first she didn't want to focus on her Asian roots.

"When I first started I didn't bring it up. My first gig I wore jeans and a black shirt it's as if as I subconsciously wanted to dress as an Anglo-Saxon man! I wanted to just let the jokes just stand on their merit," she said.

"I felt that if you showed up and told jokes that were funny and made people laugh, it was sending a message don't look at this girl because she's Chinese and she happens to be talking about Chinese stuff.

"I felt it was more powerful to walk on stage and get straight into making people laugh."

Ms Wong also rejects generic terms like 'Asian'.

"Asian still is not a very specifically useful label. Do you mean Asian from India or Asian from Singapore, Hong Kong, China or even what part of China?

"I think being specific is good. If you need to know my race or background just ask! Asian does not describe me. It describes a geographic area of the world," she said.

Other events planned for Reconciliation Week include a concert by Aboriginal and South Sea Islander singer Marcus Corowa.