SBS Radio News
Aussies celebrate Queen's jubilee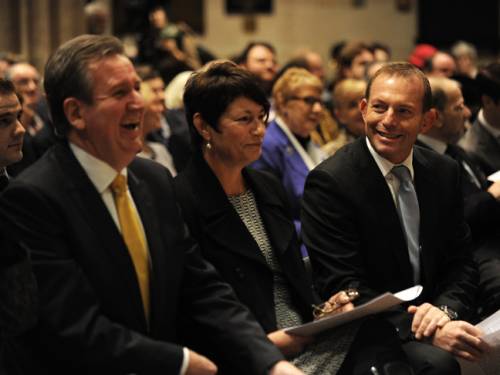 Monarchists and fans of the Queen have celebrated her Diamond Jubilee in churches, pubs and homes across Australia.
As Great Britain celebrates the 60-year reign of Queen Elizabeth II, Australia helped mark the occasion with a memorial service and jubilee lunches.
Federal Opposition Leader Tony Abbott and NSW Premier Barry O'Farrell attended a special Diamond Jubilee service at Sydney's St Andrew's Cathedral on Sunday.
The 800-capacity cathedral was nearly full despite the suitably British weather. The sound of rain on the roof competed with God Save the Queen, led by the St Andrew's boys choir.
In Cremorne, on Sydney's lower north shore, staunch monarchist Ruth Phillips, who was born in England, helped celebrate the event with 12 of her friends at a champagne high tea.
The 54-year-old was so jealous her husband, a Qantas pilot, was in London for the festivities, she decided to host her own celebration.
"I thought, you know, I'm not going to get envious, I'm just going to do something gorgeous here for my Queen," she told AAP.
"We've got all the beautiful Royal Albert china out. It's a group of friends, ladies who are all gathering together to celebrate the reign of the Queen."
Ms Phillips also brought out her precious royal memorabilia, including a plate from Buckingham Palace, a souvenir tea towel collection and a mounted set of pop artist Andy Warhol's postcards of the Queen.
And in Sydney's east the Union Jack and bunting bearing Her Majesty's beaming face adorned the Lord Dudley Hotel in Woollahra where a jubilee special of pork pies and Yorkshire pudding was on the menu and the Pims flowed freely.
Speaking after the St Andrew's service, the national convenor of Australians for Constitutional Monarchy, David Flint, said he believed support for the royal family was growing.
Your Comments
Join the Discussion