SBS Radio News
Call for talks as boat arrivals increase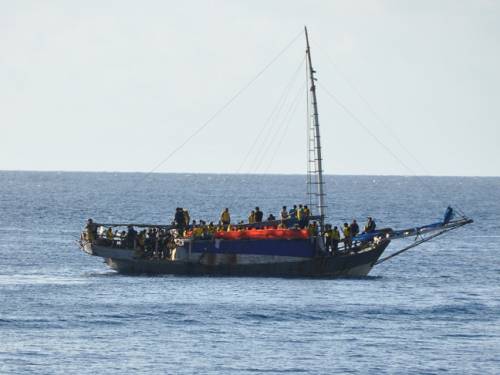 As the number of asylum seeker arrivals hits 3,700 for the year, the federal government is urging the Coalition to come back to the negotiating table.
The federal government has again urged the coalition to co-operate on a strategy to stop asylum seekers risking death at sea as the Australian navy intercepted the fourth boat in four days, bringing the number of arrivals this year to 3700.
But Opposition Leader Tony Abbott is standing firm on his call for the Labor government to revert to the Howard government's policy of offshore processing on Nauru, temporary protection visas and turning back boats when it's safe to do so.
HMAS Armidale intercepted the boat northwest of Ashmore Island on Sunday.
Initial reports suggest 85 passengers and three crew, who have been transferred to Christmas Island, were on board.
The boat was the 48th this year, bringing the number of arrivals in 2012 to 3700.
Mr Abbott told reporters on the Gold Coast the government had lost control of Australia's borders and was ignoring Howard government solutions.
"The only reason why this government can't put them in place is because the current prime minister is too stubborn to admit that John Howard had it right," Mr Abbott said.
Home Affairs Minister Jason Clare said it was the 43rd boat to arrive in Australia since Mr Abbott rejected the government's offer to re-open Nauru while entering an asylum-seeker swap deal with Malaysia, and to hold an inquiry into temporary protection visas.
"Let's remember what this is all about - 200 people died off the coast of Indonesia and another 11 died off the coast of Malaysia," Mr Clare said, referring to incidents earlier this year.
"We can help stop people dying at sea. It requires legislation. That means it requires us to work together."
The coalition last week rejected alternative legislation, put forward by federal independent MP Rob Oakeshott, which would have allowed the immigration minister to designate any nation as an "offshore assessment country" as long as it was party to the Bali process.
The Bali process is a regional co-operation deal on asylum seekers involving more than 40 countries.
The bill is still before the House of Representatives after Deputy Speaker Anna Burke used her casting vote to keep the bill alive.
Immigration Minister Chris Bowen said the government wanted to engage in "good faith" talks but Mr Abbott believed it was in his political interest to see more boats arrive.
The government is expanding its bridging-visa program to include boat arrivals in a bid to manage the flow.
But the system is likely to come under cost pressures as the government's budget estimates were based on 450 arrivals a month and the average in January-April 2012 was about 570 a month.