SBS Radio News
At least 30 killed in Syria shelling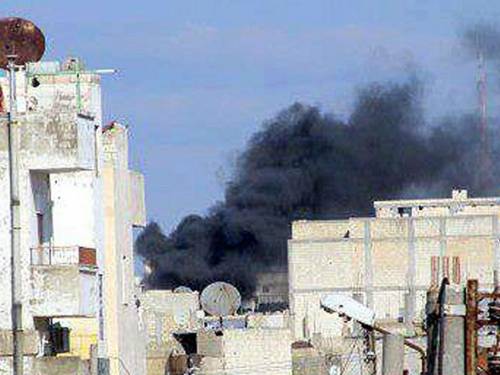 More deaths in Syria as UN says children are victims of killing, arbitrary arrest, torture, and sexual violence, and have been used as human shields.
At least 30 people have been killed by government shelling in a region in the east of Syria, as a new UN report accuses soldiers of using children as human shields.
"Shells rained on al-Ashraa village, in Deir al-Zour, killing women and children on Tuesday," activist Firas al-Hamawi told DPA.
He said more than 100 were wounded in the shelling.
The London-based Syrian Observatory for Human Rights said troops stormed the al-Ashraa village under cover of the shelling and began a wide-scale arrest operation after rebels retreated from the area.
The violence came after a newly published UN report on children in armed conflicts, which said that in Syria children as young as eight have been victims of killing and maiming, arbitrary arrest, detention, torture, and sexual violence, and have been used as human shields.
The report - which quoted dozens of witnesses - said: "Boys and girls between the ages of eight and 13 were forcibly taken from their homes and used by Syrian soldiers as human shields, placing them in front of the windows of buses carrying military personnel while they were raiding restive villages."
The UN report, presented to the Security Council in New York, branded the Syrian government as one of the worst violators of human rights on its annual "list of shame" of conflict countries, where children are killed, tortured and forced to fight.
On Tuesday troops also shelled rebel positions in al-Heffah in the north-western Latakia province for the eighth day running, activists said.
"Regime forces are preparing to storm al-Heffah," Rami Abdul-Rahman, a spokesman of the observatory told DPA.
He expressed fears that "a new massacre" would be committed if troops managed to enter the restive town, which was a hub of rebels.
Activists in the central province of Homs said 400 civilians, including women and children, were trapped in a school in the Jourat al-Shiah neighbourhood. UN observers expressed concern on Monday for the well-being of trapped civilians in some restive areas.
Independent verification of reports out of Syria is difficult, as authorities forbid foreign journalists from visiting restive areas.
Activists on Tuesday also accused troops of setting forests near the Turkish-Syrian border on fire to prevent civilians from fleeing to Turkey.
A Turkish Foreign Ministry official told DPA Turkey was monitoring the forest fire across the border in Syria, but did not consider it a security risk.
The state-run Syrian news agency, SANA, reported on Tuesday that a group of armed men kidnapped the passengers from two buses in Homs.
SANA quoted a source at the Homs provincial authority saying that the armed group intercepted the buses on a road between al-Kussair and al-Jousieh cities and abducted all on board.
The observatory estimates that violence in Syria has killed more than 14,000 people, including security personnel and rebels, since the uprising against President Bashar al-Assad began in 2011.
The deteriorating Syrian situation has prompted Russia, one of al-Assad's last remaining allies, to intensify its efforts on the diplomatic front to try to contain the bloodshed in the country.
Russia announced on Tuesday that it was inviting countries to an international conference on Syria, without giving a specific date.
Iran, another close partner of al-Assad, would have to be among the attendees, Foreign Minister Sergey Lavrov insisted in comments to Interfax news agency. Iran's attendance was rejected by the US last week. Lavrov is scheduled to visit Iran on Wednesday.
Iran said that the "only option to end the crisis in Syria is an internal dialogue between the government and the opposition".
"Any external options would just escalate the crisis," Iranian Foreign Ministry Spokesman Ramin Mehmanparast said in Tehran.