SBS Radio News
US, Russia trade blows on arming Syrians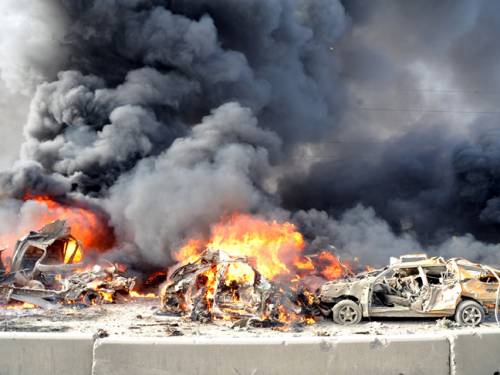 The US and Russia have traded accusations over arming the rivals in the Syrian conflict, as Damascus said it had "cleansed terrorists" from Al-Haffe.
Washington and Moscow have traded accusations over arming the rivals in the Syrian conflict, as Damascus said it had "cleansed terrorists" from Al-Haffe, a Sunni enclave feared to be the target of a new massacre.
On the ground, meanwhile, at least 50 people were killed on Wednesday as troops and rebels clashed across the country, said the Syrian Observatory for Human Rights.
Due to what Moscow said was a mistake in translation, Russian Foreign Minister Sergei Lavrov appeared at first to accuse the United States of supplying weapons to rebels who are battling the regime of President Bashar al-Assad.
US Secretary of State Hillary Clinton said on Tuesday she had information that Russia was sending attack helicopters to Syria, "which will escalate the conflict quite dramatically".
But Lavrov told a news conference during a brief visit to Iran that Russia was supplying "anti-air defence systems" to Damascus in a deal that "in no way violates international laws".
"That contrasts with what the United States is doing with the opposition, which is providing arms to the Syrian opposition which are being used against the Syrian government," he said, in remarks translated from Russian into Farsi by an official interpreter.
Other media, including Iran's official IRNA news agency, published the same accusation, in what appeared to be the first time Moscow had directly pointed the finger at Washington.
But in Moscow, the foreign ministry said Lavrov's statement was mistranslated and that the minister had only said Washington was supplying arms "in the region".
The White House, meanwhile, denied arming Syria's opposition.
"We do not and have not supplied weapons to the Syrian opposition," White House spokesman Jay Carney said.
For her part, Clinton stuck by the concerns she had expressed on Tuesday about the "continuing military relationship between Moscow and the Assad regime", adding that "we have repeatedly urged the Russian government to cut these military ties completely and to suspend all further support and deliveries".
"We believe that the situation is spiralling towards civil war and it's now time for everyone in the international community - including Russia and all Security Council members - to speak to Assad with a unified voice and insist that the violence stop," Clinton said.
Meanwhile, the rebel Free Syrian Army said its fighters pulled out of Al-Haffe in a tactical move to spare civilians of the beleaguered northwestern town after an eight-day regime bombardment.
State media said government forces overran Al-Haffe, a day after UN observers came under fire trying to reach the town after the UN and opposition activists expressed fears a massacre could be in the offing.
"Security and calm were restored in the area of Al-Haffe which was cleansed after armed terrorist groups assaulted citizens and vandalised and burned a number of public and private properties," SANA said.
Stepping up the pressure on the Assad regime, French Foreign Minister Laurent Fabius said he would contact allies to draw up tougher sanctions against his top brass.
He added that France plans to ask the UN Security Council to make Annan's peace plan "obligatory" under the UN Charter's Chapter VII, which allows measures to be imposed on countries under penalty of sanctions or the use of force.
Your Comments
Join the Discussion