SBS Radio News
Ecuador 'committed to justice', says Assange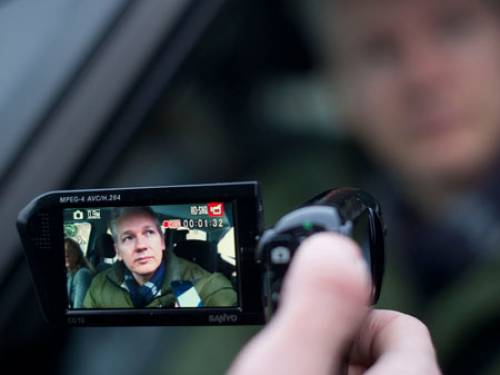 Prime Minister Julia Gillard says it is up to Julian Assange if he wants to seek asylum in Ecuador, after the Ecuadorian foreign minister said the WikiLeaks founder called it a country 'committed to peace and justice.'

Prime Minister Julia Gillard says the Australian WikiLeaks founder Julian Assange can make his own decisions on applying for asylum with Ecuador, after he asked the leftist South American nation for permission to continue his work in a land of peace and justice.
Australia will continue to provide consular support for the Wikileaks chief, Prime Minister Julia Gillard says.
Mr Assange has turned to Ecuador for political asylum, claiming Australia won't protect him from extradition to the United States where he could face the death penalty.
He walked into Ecuador's embassy in London overnight and asked for asylum under the United Nations Human Rights Declaration.
On his Twitter feed, the Ecuadorian Foreign Minister detailed some of Assange's request.
"Assange says he received death threats, extrajudicial financial blockade and the possibility of being handed over to U.S. authorities."
Mr Assange also reportedly wrote that he wants to continue his mission 'in a land of peace, committed to truth and justice.'
Assange's comes less than a week after Britain's Supreme Court rejected the 40-year-old Australian's bid to reopen his extradition case.
When asked whether the federal government supported his asylum application, Ms Gillard said: "Mr Assange's decision and choices are a matter for Mr Assange."
"Our consular officials have been in contact with him, also with Ecuador in London about this, but his decisions in relation to this matter are for him to make," she told reporters in Los Cabos, Mexico where she has been attending a G20 leaders summit.
Ms Gillard said Mr Assange had been in receipt of consular assistance every step of the way.
"Indeed, the foreign minister has remarked that he has received more consular assistance than any other Australian in a comparable position," she said.
On Mr Assange's concerns he could face extradition to the US, Ms Gillard said the Australian government opposed extradition in death penalty cases and reminded reporters he was actually wanted for questioning in Sweden for alleged sexual offences.
GREENS CALL FOR MORE SUPPORT

The Greens' Scott Ludlam has strongly supported Assange and said he had seen a translated excerpt from the WikiLeaks founder's asylum plea.

"Effectively it makes the case... that he doesn't have any confidence at all in the Australian government's willingness to protect him or to stand up for his rights," Ludlam told reporters.

"And he's extremely concerned about being prosecuted and extradited to the United States for charges that could see him in jail for life."

Treasurer Wayne Swan said Canberra had no information "whatsoever" about a pending US indictment against Assange and refused to comment further, other than to repeat vows of consular support.
Your Comments
Previous 10 |
Page 1
| Next 10
Previous 10 |
Page 1
| Next 10
Join the Discussion